Green Streets volunteers put the "green" in City streets
August 17 2015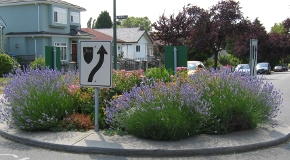 Year after year, hundreds of volunteers help keep Vancouver's streets green through the Green Streets gardening program. This year is no different.
Paired with drought-tolerant and evergreen plants, volunteers with the Green Streets program have shown they are here to stay and we're always looking for more green thumbs to get involved.
The program has been a great success, and has expanded to over 625 sponsored gardens on streets across the city, tended to by over 600 volunteer gardeners. There are about 280 gardens available for sponsorship.
Green Streets gardens are planted in traffic circles and corner bulges. The City assists with the initial planting of the gardens and volunteer gardeners then work with their community to help the gardens grow during the year.
What does it mean to be a volunteer with the Green Streets Program?
Volunteers weed and water, or choose to add their own personal touch by adding favourite plants and keeping their garden looking beautiful.
A warning: volunteering as a gardener with Green Streets has been known to cause side effects such as:
Finding a greater sense of community
Feeling joy by virtue of beautifying a piece of the city
Meeting new friends and sharing information about gardening 
In addition to sharing knowledge with one another, volunteer gardeners with the Green Streets program receive:
An invitation to the autumn Green Streets Garden Party, where the City celebrates the contribution of Green Streets volunteers
Free compost in spring and fall
Notification of any plant giveaways and other Green Streets news
Access to the expertise of mentor gardeners with the Master Gardeners Association of BC
Being water wise is an important part of gardening
On July 20, 2015, Metro Vancouver moved the region to stage three water restrictions.
During this stage, gardens – including traffic circle and corner bulge gardens – can still be watered using a spring loaded hose or a watering can. These efforts help reduce water consumption.