Honda Celebration of Light expected to kick off with a boom!
July 23 2014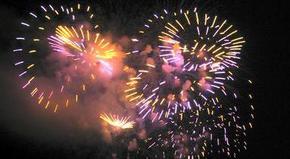 Thousands will gather in downtown Vancouver to view the 2014 Honda Celebration of Lights on July 26, July 30, and August 2 to watch USA, France, and Japan compete.
Getting to and from the fireworks
As you travel to popular viewing points in the West End and Kitsilano, the best ways to navigate the crowds and avoid street closures is to:
Road closures
Roads will be closed to motor vehicles in:
Kits Point beginning at 6:30pm
West End beginning at 7:30pm
Only residents with parking decals for the neighbourhood or with vehicle registration displaying a neighbourhood address will be allowed access.
Pedestrian exit routes
When you leave the West End, look for exit routes to SkyTrain and bus service. Please use:
Burnaby Street to access Burrard and Waterfront stations
Beach Avenue to access Yaletown Station
Gilford Street to access Georgia Street bus routes
Bike valet
Complimentary bike valet will be available at Sunset Beach.
Reminder to boaters
Follow safe boating guidelines and carry your boating licence at all times.
Tips for viewing the fireworks
Pack up what you bring in
To help make the Honda Celebration of Light a zero waste event, recycling and garbage bins will be set-up on the beaches. Please pack-out what you pack-in, leaving Vancouver's parks and beaches clean.
Open alcohol and smoking are prohibited
Open alcohol is prohibited on Vancouver's beaches, streets, and parks.
Beaches and parks are smoke-free.
Keep noise levels to a minimum
Please respect residents in the area by keeping noise levels to a minimum.
Set-up a meeting place
If meeting friends and family, use the beach marker signs placed along English Bay. Each sign has a large letter on it.
When leaving the fireworks, the crowds will be large and there's little light, so set-up a place meeting place in case someone from your party gets lost.
Stay above the high tide line
When watching the fireworks from the beach, be aware of the high tide schedule:
July 26, 7:30pm: 14.4 feet
July 30, 9:15pm: 14.4 feet
August 2, 10:43pm: 14.1 feet
Signs will be posted along the beach to indicate where high tide will hit during each evening.
Keep your pets safe
As the sudden noise of the fireworks can be very frightening for animals, please leave your dog at home. If you choose to bring your dog with you, make sure your pet is wearing proper identification, and phone 3-1-1 right away if your dog is lost. 
Get up-to-date information the night of the fireworks
If a performance is cancelled or there is important public information, local event, emergency, and other agencies will use Twitter, Facebook, and other media channels to communicate information to you. Follow the Twitter feeds for: