Honda Celebration of Light kicks off on Saturday
July 24 2015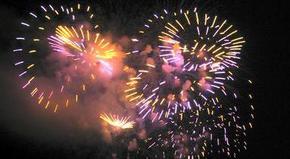 The Honda Celebration of Light fireworks competition takes place in downtown Vancouver on July 26, 30, and August 1.
This year's competition will kick off with China, followed by Brazil and Canada.
Now in its 25th year, the annual event is the longest running off-shore fireworks competition in the world and one of the largest events hosted in the City of Vancouver.
Walk, cycle, or take transit to the fireworks
As you make your way to the competition with thousands of others people, a reminder that taking transit, walking or cycling are the best options to avoid road closures and delays.
Traffic restrictions
Traffic restrictions will be in effect near popular viewing points on all three days:
Kits Point, north of Cornwall Street, from at 6:00pm to 11:30pm
West End and Davie Street, west of Burrard Street and south of Alberni Street, from 7:30pm to 11:30pm
Vehicle access during those times will be limited to residents who have a local parking decal or vehicle registration displaying a local neighbourhood address.
Tips for viewing the fireworks
Pack up what you bring in
To help make the Honda Celebration of Light a zero waste event, recycling and garbage bins will be set-up on the beaches. Please pack-out what you pack-in, leaving Vancouver's parks and beaches clean.
Open alcohol and smoking are prohibited
Support fire safety measures by respecting the long term smoking ban in Vancouver parks, refraining from the use of barbeques, and being vigilant in reporting any unsafe behaviour.
Set-up a meeting place
If meeting friends and family, use the beach marker signs placed along English Bay. Twelve steel posts will be positioned along the beach with letters "A" through "L".
When leaving the fireworks, the crowds will be large and there's little light, so set-up a place meeting place in case someone from your party gets lost.
Stay above the high tide line
When watching the fireworks from the beach, be aware of the high tide schedule:
July 26, 3:05pm: 11.5 feet
July 29, 6:22pm: 14.1 feet
August 1, 8:08pm: 15.1 feet
Signs will be posted along the beach to indicate where high tide will hit during each evening.
Follow safe-boating guidelines
Watching from the water? Follow safe boating guidelines and to carry your boating license at all times.
Keep your pets safe
As the sudden noise of the fireworks can be very frightening for animals, please leave your dog at home.
If you choose to bring your dog with you, make sure it is wearing proper identification. Ninety-seven per cent of dogs that are licensed and wearing tags are returned to their owner. If your dog gets lost, phone 3-1-1 immediately to inform Animal Services.
Get home safe using these pedestrian exit routes
Following the fireworks, you can access transit by using the following exit routes out of the West End:
Burnaby Street for the SkyTrain Expo, Millennium, and Canada lines
Beach Avenue for the SkyTrain Canada Line
Guildford Street for Georgia Street bus routes
Please respect residents in the area by keeping noise levels to a minimum.
Get up-to-date information the night of the fireworks
For up-to-date information about the event, monitor these Twitter feeds: