In remembrance of Leonard George
December 7 2017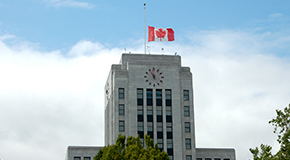 The City of Vancouver sends its deepest condolences to the friends and family of Leonard George, Elder and leader of the Tsleil-Waututh Nation who passed away last night.
Sadhu Johnston, City Manager, said, "We are very saddened to hear of the passing of Leonard, and his family and friends are in our thoughts. He was a respected Chief, Elder, actor, business leader, and environmentalist whose community work and cultural knowledge benefited many across the Lower Mainland. We worked with Leonard on the 2010 Olympics and on cultural exchanges, and benefitted greatly from his passion and commitment to the people of Vancouver."
Vancouver is proud to be a City of Reconciliation and is committed to strengthening relationships between Indigenous peoples and all Vancouverites.
The flag at City Hall is flying at half-mast in Leonard George's memory.