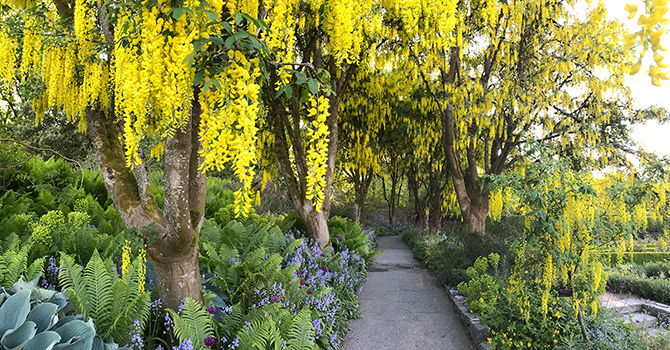 Laburnum Walk now bloomin' beautiful at VanDusen Botanical Garden
May 13 2021 –
It's time to walk under the luminous golden beauty of the Laburnum Walk at VanDusen Botanical Garden.
Forty-three hybrid goldenchain trees (Laburnum x watereri 'Vossii') are blooming along VanDusen Garden's Laburnum Walk. Laburnums bloom for a brief two weeks and are one of the most popular and Instagrammable blooms of the year.
Tickets are only available online for designated entry times at www.vandusengarden.ca. The Garden is open from 10am to 5pm in May (last entry time is 3:30pm to 4:30pm). For those looking to snap the perfect picture, it is recommend visiting on a weekday when there are fewer visitors.
More garden blooms
Laburnums are just one of the many May highlights in the Garden. Rhododendrons can be seen in an abundance of colour, and now is the perfect time to take a stroll down the Rhododenron Walk. VanDusen is home to more than 650 different species and varieties. Mostly evergreen, these shrubs have clusters of trumpet-shaped flowers in nearly every colour imaginable.
Visitors can pick up a May bloom guide
(2.5 MB) on their way into the Garden to find other seasonal highlights such as tree peonies, Himalayan poppies, and more.
Current promotion
VanDusen Garden currently has a promotion with Shaughnessy Restaurant , with a patio that overlooks the Garden, until June 7. Garden visitors can present their VanDusen admission ticket to access exclusive garden-inspired menu items. Elderflower and grand fir from VanDusen are used in the featured menu items this month.
VanDusen Botanical Garden, located in the heart of Vancouver, spans across 22 hectares (55 acres) with more than 7,500 unique species and varieties of plants arranged in 70 distinct collections. The Garden is jointly operated by the Vancouver Board of Parks and Recreation and Vancouver Botanical Gardens Association.