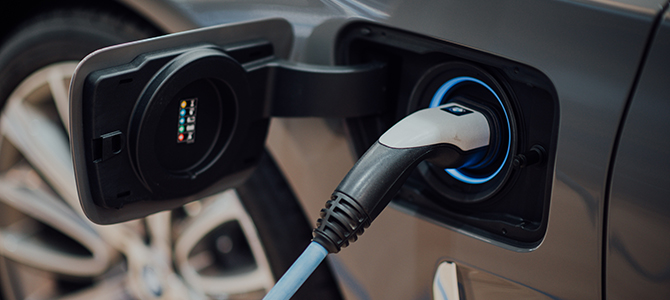 More Electric Vehicle (EV) charging stalls in new non-residential buildings will be plug-in ready to meet increasing needs
July 6 2021 –
City Council has approved requirements to expand access to EV charging, as more residents and fleet managers transition to electric vehicles. This supports our Climate Emergency Action Plan goal that by 2030, 50% of all kilometres driven on Vancouver's roads will be by zero emissions vehicles.
New regulations
Today's approved changes mean residents and visitors will find more EV charging options when parking in non-residential buildings. The new regulations require EV charging infrastructure in 45% of parking stalls in most types of new non-residential buildings, 100% of new car-share stalls, and all stalls in new hotels. These changes align with recent updates made by the City of North Vancouver, and will have minimal increases in new construction costs, while significantly reducing or eliminating future costs of retrofitting for EV chargers in these buildings.
These new requirements build on a decade of work by us to expand EV charging, and complement existing policies that require EV-ready stalls in new residential construction, ongoing efforts to expand the public charging network, and retrofits in multi-family rental buildings to provide Vancouver residents and visitors with more convenient access to charging points. To continue to support accessible charging for those that need it most, we're further expanding the public charging network with a focus on neighbourhoods with less access to home charging.
Planning for the future
In 2020, 10% of all new vehicles purchased in BC were EVs, the highest rate of any jurisdiction in North America. We estimate that in Vancouver, between 12% and 17% of new vehicles are EVs, in part due to improved infrastructure, policy, and incentives provided by all levels of government. We are working to support the growing number of EVs by ensuring charging infrastructure is available now and in the years to come as mass adoption will continue to match the new federal mandate that 100% of vehicle sales are zero-emissions by 2035 to meet Canada's national net-zero targets.
Burning fossil fuels in vehicles is responsible for nearly 40% of the carbon pollution in Vancouver so transitioning the way we move around the city is a big part of the solution to climate change. That's why we continue to invest in infrastructure to make active and clean modes of transport safer and more convenient for residents, support better transit, and encourage zero-emissions vehicles, which have significantly lower emissions per passenger-kilometre travelled than conventional gas and diesel cars.
This regulations outlined in this By-law will take effect on June 1, 2022.