City of Vancouver unveils new, improved development signage
June 19 2013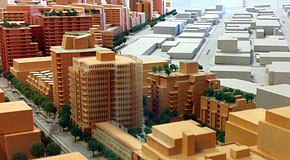 We are improving how we communicate around property development and we asked for your feedback on the changes.
The Engaged City Task Force told us that signs for rezoning and development projects need an overhaul. Our current signs use small fonts and overly technical language. This makes it hard to inform you about potential changes in your neighbourhood and to encourage your feedback.
The new development project signs communicate projects better. They feature:
Easy-to-understand language and details
Improved visuals (a sketch and site map)
Information on how residents you can give input online or in person
Click the samples of the current (left) and new signage (right) to view larger versions.
The online questionnaire was available from June 19 to July 26, 2013. 
The new signage makes its debut on the fence at 720 – 730 East Hastings, a proposed development site that the Vancouver Public Library (VPL) and YWCA Metro Vancouver seek to rezone. The proposal is for a six-storey mixed use building that includes space for the following:
A new Downtown Eastside/Strathcona public library branch
YWCA community programming space
21 supported housing units
Redesigning development project signage was one of the key recommendations in the Engaged City Task Force's Quick Starts Report, approved by City Council last week. The Task Force's mandate is to increase neighbourhood engagement and improve upon the many ways the City connects with Vancouverites.