Print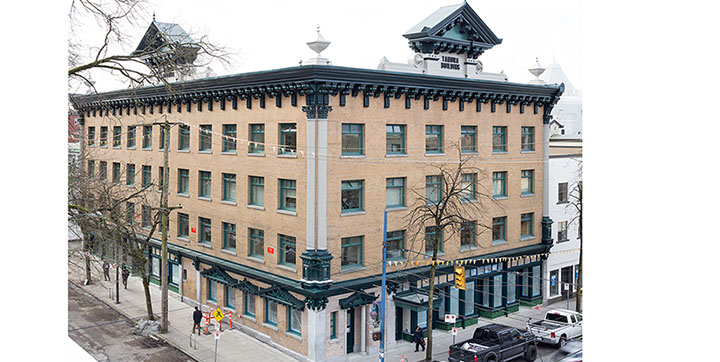 New incentive programs provide more support for preservation of heritage buildings
April 18 2019 –
Council approved three major components for a citywide heritage conservation incentive package last month to help preserve heritage buildings and assets in Vancouver.
Heritage Incentive Program
The Heritage Incentive Program (HIP) will provide grants up to a maximum of $4 million per building for heritage conservation and seismic upgrades of commercial and non-commercial buildings that are on the Vancouver Heritage Register and protected by the heritage designation bylaw. The HIP replaces the Heritage Building Rehabilitation Program which expired in 2015, and will be available citywide.
It will also provide the option of transferring heritage density for any new heritage designation sites in Gastown, Chinatown, Victory Square, and the Hastings Street Corridor, the areas with the highest concentration of heritage buildings in Vancouver. The program will be funded through Community Amenity Contributions from new developments. The annual budget will be brought forward as part of the Capital Budget process based on available funding.
Heritage Façade Rehabilitation Program
The Heritage Façade Rehabilitation Program (HFRP), which was first introduced in 2003 for sites in Gastown, Chinatown, and the Hastings Street Corridor, has been expanded to be citywide. The program will provide grants of up to $50,000 for the rehabilitation and seismic stabilization of the façades of registered heritage buildings.
Eligible work includes ground floor storefront conservation and seismic stabilization of major architectural components, as well as conservation of building envelope materials, windows, doors, historic signs, and awnings, and architectural lighting. The program will be funded through the 2019-2022 Capital Plan with a budget of $1.2 million.
Heritage House Conservation Program
The Heritage House Conservation Program (HHCP) is a citywide program that will support heritage conservation of privately owned single or two-family buildings, small apartment buildings, multi-family conversions or similar buildings that are primarily wood-framed. Grants of up to 50% of the eligible cost would be provided for exterior heritage elements, designated interior elements, structural, envelope and infrastructure work, as well as accessibility and other related work.
The HHCP program will be managed through the Vancouver Heritage Foundation for an initial period of four years (2019-2022), building on the conservation grants offered by VHF since 1999. The program's $1.2 million budget will come from the 2019-2022 Capital Plan.
Find more information and apply
These three heritage programs were developed over the past two years through a wide range of study and consultation. Heritage consultants provided recommendations which included studies of global best practices. Staff also conducted reviews of the City's heritage incentive programs, consulted with stakeholders and advisory committees, and held public open houses and surveys.
The City continues to work on its Heritage Action Plan, which is examining different ways to encourage the retention of heritage assets in Vancouver.