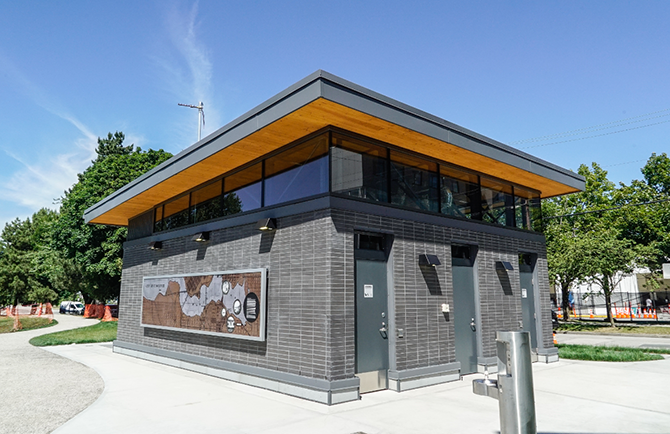 New pump station brings upgrades to China Creek North Park
Improvements include two new accessible public washrooms
While our residents may not see our sewer and water systems at work, projects like this often play an important role in shaping the look and feel of our neighbourhoods and in protecting our waterways.
Mayor Kennedy Stewart
June 30 2021 –
Visitors to China Creek North Park in Mount Pleasant now have access to two new washrooms, a water fountain and public art thanks to a City Engineering project to replace the Glen Pump Station at the north end of the park.

With an environmentally friendly design in keeping with the neighbourhood's character, the new pump station has an increased capacity to help serve this growing area while minimizing the risk of sewage spills into sensitive waterways.

Sitting where China Creek would have previously flowed into False Creek, the pump station features an interpretive art panel on Vancouver's historic buried streams and a custom wrap of the generator celebrating the iconic velodrome which used to be on the neighbouring Vancouver Community College property.

China Creek North Park enhancements
The latest improvements are in addition to enhancements by the Vancouver Board of Parks and Recreation. The enhancements completed in 2019 include:
New playground with safety flooring made from recycled Native Shoes
Climbing elements embedded in the hillside
Toy race track
Wildflower meadow
Seating area
Restored track loop
New exercise equipment
Improved accessibility and connectivity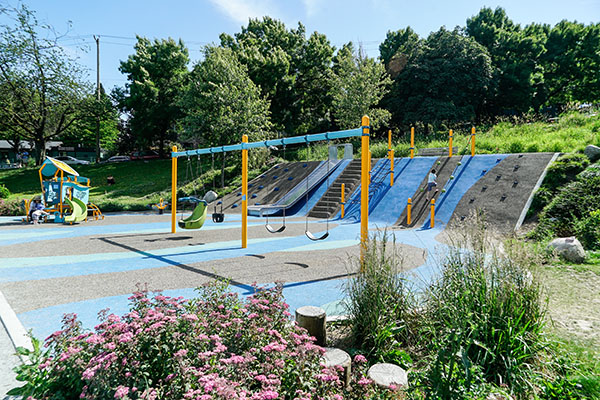 About Glen Pump Station
We began upgrades to the Glen Pump Station in 2019 following public consultation and coordination with the Vancouver Board of Parks and Recreation and First Nations. Constructed in 1972, the previous pump station was beyond its useful service life and was replaced as part of our capital renewal program.

Pump stations are critical pieces of public infrastructure that collect and transport sewage from low points in the sewer system to a Wastewater Treatment Plant. These stations play a crucial role in protecting water quality and enabling the recreational use of water bodies around the city.
Quotes
Mayor Kennedy Stewart
"We are pleased to be opening additional accessible washrooms to the public, especially during the summer season when our parks are at their busiest," says Mayor Kennedy Stewart. "While our residents may not see our sewer and water systems at work, projects like this often play an important role in shaping the look and feel of our neighbourhoods and in protecting our waterways."
Park Board Chair Camil Dumont
Park Board Chair Camil Dumont says, "the playground and toy race track have become popular with local families. There is much community support and enthusiasm for playground renewals and it's an ongoing priority for the Vancouver Board of Parks and Recreation."