Next phase of False Creek South process to address resident leases
May 9 2018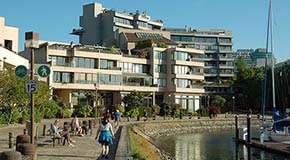 With the completion of the first phase of planning for False Creek South, the process is shifting to allow the time and space necessary to address residents' key interests about their leases with the City of Vancouver, most of which are set to expire between 2036 and 2046.
In the first phase of the False Creek South neighbourhood planning and engagement process, we heard that issues around expiring land leases was a top priority for many area residents.
Our goal is to prioritize retaining existing community members, protect vulnerable residents, and create affordable and diverse housing options so that residents who now live in False Creek South can continue to live there. For this reason, there will be a recommendation to Council next week to put the neighbourhood planning process on hold so that strata, co-op and non-market lease negotiations can take place with residents before detailed planning work for the area continues.
The Residential Protection and Retential Plan
Already approved by Council as a result of the Phase 1 consultation process is a provisional Resident Protection and Retention Plan, which creates a long-term "safety net" of protections and supports available to residents should they become necessary as a result of development activity or end of an existing lease. This plan would go into effect upon Council adoption of a neighbourhood plan, to ensure residents are supported throughout future changes to the area.
Also developed through the consultation process were a provisional vision statement and guiding planning principles. The vision and 10 guiding principles outline a commitment to enhancing the living legacy of the neighbourhood and realizing future growth in an equitable and innovative way.
Gathering feedback on the potential application of this approach will be the starting point for the next phase of engagement with area and city-wide residents when the planning process resumes.
About phase 1 planning and consultation
Phase 1 of False Creek South planning and consultation ran between June 2017 and April 2018.
This first phase of the process engaged over 1,800 residents living in the neighbourhood and from other parts of the city to identify the area's core values and issues, and to explore ideas for the future.
The False Creek South Engagement Principles, approved by City Council in January 2017, has guided our engagement.