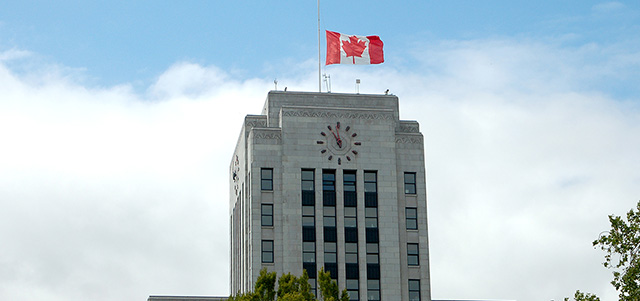 On the fifth anniversary of the public health emergency, City calls for decriminalization and safe supply
Five years into this public health emergency and we are still seeing record numbers of overdose deaths, not just in our city but across the province.
Mayor Kennedy Stewart
April 14 2021 –
Today marks five years since a public health emergency was declared in response to the overdose crisis in BC. As we mark this solemn anniversary, we also mourn the deaths of more than 1,730 people in Vancouver who have lost their lives to a poisoned drug supply and are flying the Canadian flag at City Hall at half-mast in their honour.
"Five years into this public health emergency and we are still seeing record numbers of overdose deaths, not just in our city but across the province," said Mayor Kennedy Stewart. "Today serves as a grim wake up call, a moment for us to say 'enough is enough' and to resolve to put an end to a tragic failure in policy that has needlessly cost too many of our neighbours their lives. Decriminalization, safe supply, and a ferocious campaign to save lives and end this crisis is the only option."
Submitting proposal to Health Canada
The preventable loss of life due to the poisoned drug supply in Vancouver cannot continue. We are taking decisive action by submitting a proposal to Health Canada that asks for a citywide exemption to decriminalize simple possession of drugs. If approved, people found in possession of drugs under a certain amount would be offered connections to health care and supports, rather than being subject to criminal prosecution. Further, their substances for personal use and paraphernalia would not be confiscated.
Indigenous community members living and working in the Downtown East Side (DTES) continue to be disproportionately impacted by the overdose crisis due to systemic racism and colonization. Indigenous-led initiatives, culture and ceremony, and Indigenous peers and Elders' involvement are essential in saving Indigenous peoples' lives during the overdose crisis. We are committed to investing in, and working alongside, these community-led initiatives.
Steps we are taking to address the overdose crisis
Decriminalization
Decriminalization is just one part of several evidence-based public health and harm reduction initiatives that we are undertaking to address the overdose crisis.
Funding
We have also allocated funding for a dedicated position at Vancouver Fire Rescue Services (VFRS) to lead the Combined Overdose Response Team, and worked with partners at VCH to expand access to safe supply, harm reduction services, and safe places to use drugs, especially during the COVID-19 pandemic. We have also funded a new medic unit, called MEDIC11, to provide vital services to marginalized residents in the Downtown Eastside. This initiative has strengthened VFRS's ability to respond to safety incidents in the local area and allows other fire crews to be available for fires, motor vehicles incidents and rescue calls.
Temporary washroom trailers
In recent months, we have also installed six temporary washroom trailers designed for those who are at high risk of overdose, including sex workers, people who are homeless or precariously housed, illicit drinkers, and people who use illicit drugs.
Overdose prevention van and space
As part of the Mayor's Overdose Emergency Task Force, we supported Vancouver Coastal Health (VCH) to launch a mobile overdose prevention van that operates in the Downtown South and Commercial Broadway areas and serves as a needle depot with access to clean supplies and a witnessed injection site. We have also leased space to VCH to open an overdose prevention space at 1101 Seymour Street to address the need for harm reduction supports in the Downtown South area, operated by RainCity Housing & Support Society.
The Community Action Team
The Vancouver Community Action Team (CAT) also plays a vital role in shaping our approach to addressing the overdose crisis. The CAT, which is co-chaired by the City and VCH, represents approximately 25 organizations and people who use drugs who are working on or are affected by the crisis. The CAT, which has been awarded $100,000 for the third year of funding from the Province, is working on several initiatives to raise awareness of the crisis, destigmatize perceptions about people who use drugs, advocate for change, and support the people who are responding to the crisis.
"To ensure transparency within processes and identify gaps that affect the people in our communities, the Community Action Team involves people who use drugs, people with lived experience and Indigenous people in all levels of decision making. The goal is to save lives during this triple crisis of a poisoned drug supply, homelessness and COVID-19," says Samantha Pranteau, Community Action Team member. "Collaboration at all levels of government is necessary to ensure that we are all included in the policy change and model approvals needed to save lives. Necessary life-saving policy changes include decriminalization of poverty and drug use, access to safe supply, and community-led initiatives."
We are deeply grateful to all community organizations who are doing incredible work advocating for drug policy reform and supporting those impacted by overdose.
We encourage you to raise awareness of overdose-related harms, including overdose death, combat the stigma surrounding it, and share our video advocating for safe supply .