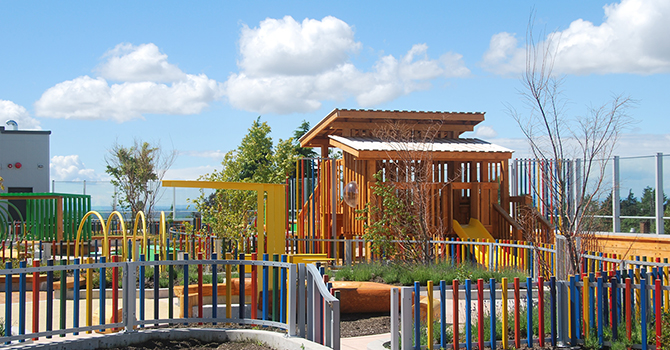 One-stop Drop-off: New childcare centre to open at Fleming elementary school
New facility will provide 69 spaces for childcare and an easier transition to kindergarten for South Vancouver families
We are thrilled to be supporting the economy and advancing gender equity by offering 69 much-needed childcare spaces to South Vancouver families, where childcare supply for children under three is lower than in other parts of the city.
Mayor Kennedy Stewart
June 28 2021 –
We're pleased to announce that a new childcare facility, which will provide families in South Vancouver with 69 spaces for children ranging from infant to preschool age, is set to open this week.
The Fraserview Childcare Centre is located on the rooftop of the seismically replaced Sir Sandford Fleming Elementary School. Childcare areas include more than 8,000 square feet of dedicated indoor space and 8,000 square feet of dedicated outdoor program areas. Four licensed programs offer full day care to infants, toddlers, and children ages 3-5, as well as part day preschool. Outdoor childcare areas will provide physical activity and gardening opportunities for children to play and learn in nature.
The Developmental Disabilities Association (DDA) will operate the new centre which is the third childcare facility that we have co-located on the rooftop of a seismically replaced elementary school through partnership with the Vancouver Board of Education. The repurposing of underutilised space such as rooftops in residential areas helps families to find care in their neighbourhood, eases children's transition to kindergarten, and builds community connections.
In addition to accommodating four licensed childcare programs, the centre includes flexible space that the DDA will use to provide programs to support families with a child who may have a developmental delay.
Programs
Programs include:
Parent-Child Mother Goose, a group experience for parents and their babies/young children that focuses on the power and pleasure of the use of songs, rhymes, and stories. Parents gain skills and confidence, which can enable and create a positive family pattern during their child's early years. In addition, this program offers children the benefit of early experience with language and communication.
Toddler Time, an early learning readiness group geared towards toddlers between the ages of 24-36 months who have not yet attended an early learning and child care setting. Socialization, language, play skills, fine and gross motor skills are encouraged through fun and weekly theme-based activities.
Funding
Development of the Fraserview Childcare Centre was funded through City-wide Development Cost Levies (DCLs) for childcare and $500,000 from the Province of BC. DCLs are paid by property developers based on square footage of the space they are building.
Childcare is an important part of our Healthy City Strategy, which calls on partners, in particular senior governments, to help create a city where everyone can thrive.
Since 2018, we have reduced the childcare shortfall by 1,411 spaces city-wide, and secured more than 470 new childcare spaces since 2019, of which 344 are now operational.
Quotes
Mayor Kennedy Stewart
"We are thrilled to be supporting the economy and advancing gender equity by offering 69 much-needed childcare spaces to South Vancouver families, where childcare supply for children under three is lower than in other parts of the city," said Mayor Kennedy Stewart. "Childcare is critical to the economic recovery from COVID, as it allows parents, particularly mothers who have been disproportionately impacted by the pandemic, to participate in the labour force knowing that their children are well cared for in a safe, learning environment."
Andrew Roets, Director of Child and Family Services with the Developmental Disabilities Association
"The Developmental Disabilities Association in partnership with the City of Vancouver and the Vancouver Board of Education is proud and excited for the opening of our newest child care site – Fraserview Child Development Centre," said Andrew Roets, Director of Child and Family Services with the Developmental Disabilities Association. "Our multi-program centre is located on the 3rd floor of the new Sir Sandford Fleming Elementary school near 49th Ave and Knight St. in Vancouver. We are looking forward to providing services in the Victoria- Fraserview area and supporting families by providing much needed childcare."