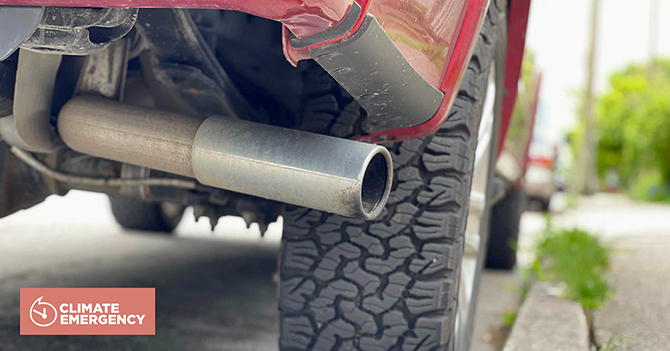 One week left to take survey on proposed Climate Emergency Parking Program
June 28 2021 –
Vancouver residents have one week left to take our survey on the proposed Climate Emergency Parking Program.
We are seeking input from renters, homeowners, vehicle- and non-vehicle owners on the two proposed initiatives that work together:
*An annual pollution charge on more polluting vehicles (model year 2023 or newer) that would be added to the cost of annual parking permits to encourage the switch to purchasing cleaner vehicles and help reduce our carbon pollution, 40% of which comes from burning gas and diesel in our vehicles.
A new overnight residential parking permit (considering a price of $45/yr or $3.75/month) that would apply to residential streets in the city that don't already require permits. This new permit area would allow the pollution charge to be implemented across the entire city, not just in existing permit zones. It would also allow us to respond more effectively to localized parking issues as Vancouver grows.
*If approved by Council, the pollution charge would only apply to vehicles starting with model year 2023.
Existing (2022 model year and older) vehicles would not pay a pollution charge
For new vehicles falling into Tier 1 (emitting under 200g CO2/km), the pollution charge would be $0. This would include electric vehicles, hybrids, and most economy cars, including some smaller SUVs
Examples of Tier 1 vehicles ($0) – based on 2021 emissions listed in the NRCAN fuel consumption ratings guide – include the Chevy Bolt, Nissan Leaf, Kia Soul, Hyundai Kona, Toyota RAV4, Honda Civic, Chevy Malibu, Kia Forte, Mazda CX-30, Nissan Rogue, Ford Escape, and Volkswagen Golf
In general, less expensive gas and diesel vehicles produce fewer emissions
Revenue from the proposed program could help fund key climate emergency actions to benefit all residents, such as making our sidewalks safer and more accessible, expanding our EV charging network, improving bus speed and reliability, adding more trees and greenspace and converting buildings from natural gas to renewable energy.
Our survey closes July 5, 2021.