Share your feedback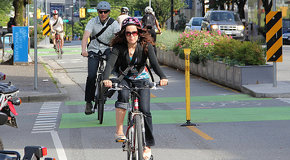 Open house Alexander Street Bikeway
Drop into an open house to meet with project staff, learn about the recommended design options and provide your feedback.
Date and time
November 21 2017, 2:00 p.m. to 8:00 p.m.
Location
Vancouver Japanese Language School , 487 Alexander St
Vancouver
Event details
We are planning to improve the Alexander Street bike network to make it safer and more comfortable for cyclists of all ages and abilities.
The proposed improvements will make it safer for everyone to share the road by slowing and reducing traffic on Alexander St and creating better cycling connections between the Powell St Overpass and the existing protected bike lane on Carrall St in Gastown.
View the display boards and complete an online feedback form by December 8, 2017.