Our next steps to address homelessness, help SRO tenants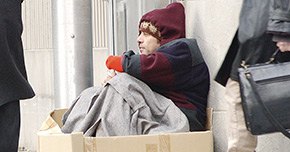 April 11 2017 –
We have increased our response to address homelessness in the past year, and will take even further action throughout 2017 as high housing costs, near-zero rental vacancy, and frozen welfare rates continue to impact residents.
Metro Vancouver Homeless Count
Yesterday, Metro Vancouver released the preliminary numbers from the 2017 Metro Vancouver Homeless Count.
The count shows a 30% increase of homeless residents across the region since the last Metro Count in 2014, while Vancouver saw an increase of 19%.
Vancouver's total homeless population is currently at 2,138 residents compared to 1,803 residents in 2014. Of that, 537 residents are unsheltered while 1,601 residents are sheltered.
Despite our increased efforts to prevent, assist, and create pathways out of homelessness, the number of homeless residents continues to increase.
Our efforts over the past year
In the past year, we have further increased our efforts by:
Offering 20 sites of City-owned land worth $250 million to the Provincial and Federal governments to build affordable housing – to date, we have secured investments in two of the 20 sites
Opening the highest number of temporary winter shelter spaces to date – 311 spaces were opened for the 2016/17 winter through partnership with BC Housing
Partnering with the Park Board and the local faith community to provide warming centres this winter for residents to have a place to warm-up during cold nights as shelters were at capacity
Serving 3,069 residents through the Carnegie Outreach program – of which 1,300 residents were homeless, 710 were placed into secured housing, and 141 additional units were saved for those at risk of homelessness
Launching the Single Room Occupancy (SRO) Task Force to develop further actions to improve SRO condition, affordability, and tenant supports, including:

$1.3 million in upgrade grants approved for non-profit SRO operators
$2 million approved to support the non-profits purchasing or leasing of private SRO buildings

Co-chairing the Metro Vancouver Regional Homelessness Task Force and developing recommendations to all provincial parties to respond to the growing homelessness crisis, and the unprecedented surge in the number of encampments throughout the region
Opening of the first temporary modular housing development, in conjunction with Vancouver Affordable Housing Agency (VAHA), to provide self-contained homes for 40 low-income tenants
Our next steps
Continuing with our efforts to address homeless, our next steps include:
Launch a one-year pilot program, as part of the reset of Vancouver's housing strategy to speed up the production of affordable housing by prioritizing the affordable housing planning and development processes.
Engage VAHA to take forward an additional eight City-owned sites for development of 1,000 units of affordable housing.
Escalate proactive enforcement of private SRO operators by reviewing our legal and regulatory tools.
Expand capacity and education of private SRO owners by reinstating the SRO Management Training Program.
Work with partners to leverage Council-approved $2 million to support non-profits purchasing or leasing private SRO buildings.
Grow capacity of peer-based advocacy and tenant-based organizing in private SROs.
Advocate for the Metro Vancouver Regional Homelessness Task Force recommendations.
More information