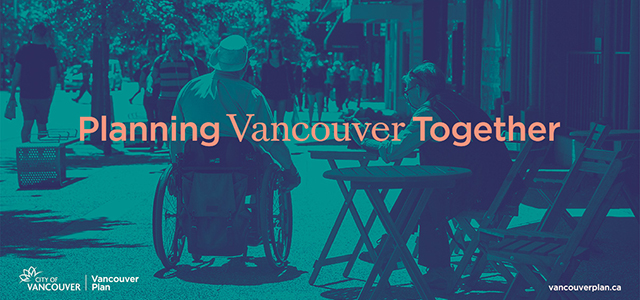 Over 10,000 responses guide initial city-wide planning process
As the Vancouver Plan process unfolds, we need to start thinking about the big moves we need in order to make Vancouver a city that works for everyone.
Mayor Kennedy Stewart
March 11 2020 –
The City has heard the hopes, concerns and aspirations of over 10,000 residents, employees, business owners and visitors as part of the initial phase of Planning Vancouver Together.
Altogether, more than 50,000 comments were submitted through an online survey, community meetings, street team intercepts, and social media towards creating a future Vancouver Plan.
"These initial results cement what we have been hearing for too long in Vancouver – that our city's housing and homelessness crisis is making it harder and harder for people to feel like they belong," said Mayor Kennedy Stewart. "As the Vancouver Plan process unfolds, we need to start thinking about the big moves we need in order to make Vancouver a city that works for everyone."
In order to hear from communities who have not traditionally participated in municipal consultations previously, City staff met with a diverse range of groups and hosted community meeting around the city. These involved families with young children, young adults, millennials, people from diverse cultural backgrounds, and those who have traditionally faced barriers to participating in the past.
"This process is about far more than developing a land use plan, it's really a strategy for becoming the city we want in coming decades. In creating the plan, we need to ensure that all members of society, including under-represented persons, along with others more familiar with civic processes, have an opportunity to shape the future city. We have made strong efforts along these lines and are continuing to evolve our approach," said Gil Kelley, General Manager of Planning, Urban Design and Sustainability. "It has been a humbling experience hearing people's stories of both joy and struggle, and we are beginning to get a clear picture of what needs to be addressed in the years ahead."
Results
Overall, 55 % of respondents to the survey said that their life in Vancouver is getting worse. Thirty per cent said it was about the same and 15% said it was getting better.
The following are the themes that emerged across all inputs: from community meetings to the online survey to a review of the past three years of public consultation.
What people love about our city
Parks, natural spaces, and mountain views – Respondents expressed profound appreciation for the city's natural, green, and waterfront spaces, and mountain views. Cherished spaces that are unique, open, accessible and can be shared by all make people feel welcome, create connection and lasting memories.
Transportation – Support and appreciation for the many walking, cycling and rolling pathways and infrastructure. This theme was closely related to climate change and the need for more walkable communities.
Social connections and well-being – People joyfully expressed their connection to friends and family, places and their communities.
Business and employment – People expressed the importance of having access to a living wage and access to job mobility and advancement. In general Vancouver was seen to be a business-friendly environment, with high marks for innovation.
Culture – Respondents named the city's cultural scene as very important to them, which includes restaurants, bars, music venues, art and cultural events.
Areas of concern include
Unaffordable housing - Top concern across all demographics in terms of housing costs, the types of housing available not meeting people's needs and a desire for more rental, co-ops, social housing options and stronger tenant advocacy. Many people talked about being unhoused, insecure, forced to leave, forced into worsening circumstances, or separated from friends and family.
High cost of living – Many different communities expressed their struggles to make ends meet, how this affects social diversity and vibrancy, the risk associated with losing valuable jobs (like teachers and first responders), young people and artists. Newcomers and families are impacted the most.
Climate change and resilience – Environmental concerns were the top theme for young people, who worry about its impact on our coastal city. Concern about seismic safety was high among parents and families of school-aged children.
Homelessness – General sense of the crisis worsening despite recent measures, and recognition of the trauma related to housing insecurity.
Traffic – General frustration about high traffic congestion.
Isolation - A lack of connection to community or neighbours, and a sense of isolation and lack of support across generations was also a clear theme. Lost connections due to high housing prices and cost of living were also related.
Small business challenges - Difficulties faced by small business and the importance of maintaining industrial lands were also a clear trend.
Loss of cultural spaces - There was also an expressed worry about loss of artists, cultural spaces, venues, places to make and create and to be part of culture.
The survey was designed to capture a picture of the current challenges and hopes of those who live, work and play in Vancouver; as well as those who want to do so.
For more information, please see the Council presentation (11 MB)
By the numbers
52,500 inputs across all areas
10,000 online survey responses
1,000 stakeholders in 80+ meetings
1,000 in-person survey interviews
3+ years of city-wide consultation summaries reviewed
4,000 page views of vancouverplan.ca
34,000 social media interactions (share, like, or comment)
Next steps
Community conversations kits (Host your own) will launch next, which build on the themes the City has heard to date and enable people to provide more in-depth feedback. In-person conversations will be led by City staff at a series of events, or can be self-led with kits that can be picked up up at any local library. An online version and all event information will be available online.
The Future We Want Summit is being planned for May, after which a full public report back will be prepared in approximately July when the first phase of city-wide engagement, 'Listen and Learn', is completed and shifts to phase two, 'Envisioning the Future'.