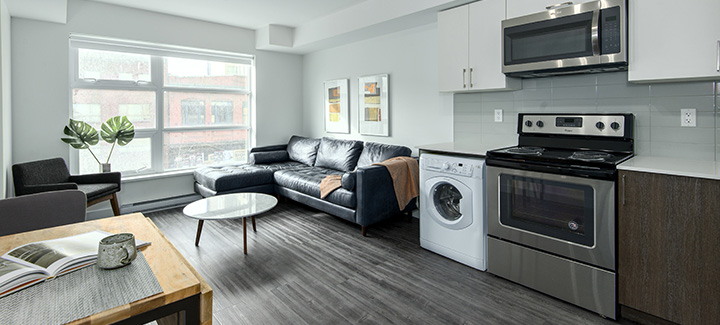 Over 230 below market homes approved in Vancouver as Moderate Income Rental Pilot Project approaches halfway mark
Expanding affordable housing opportunities close to transit and jobs with zero displacement of existing residents is a huge win for residents
Mayor Kennedy Stewart
July 21 2020 –
Council approved another 58 moderate income rental homes today, bringing the total approved under the Moderate Income Rental Pilot Project (MIRHPP) to 232. In addition to new homes for households earning between $30-80K per year, the pilot project has resulted in an additional 886 secure market rental homes.
The project at 2538 Birch Street is the ninth MIRHPP approved by Council in a pilot project that allows up to 20 rezonings for new buildings that provide 100% of the residential floor area as secured market rental housing, with a minimum of 20% permanently secured for moderate income households.
Rental rates
Under the pilot, moderate income rents are set at a maximum average starting rent of:
$950 per month for studios
$1,200 for one-bedroom apartments
$1,600 for two bedrooms
$2,000 for three bedrooms
"Expanding affordable housing opportunities close to transit and jobs with zero displacement of existing residents is a huge win for residents," said Mayor Kennedy Stewart. "These types of homes are critical to keeping more middle income households, including our nurses, firefighters, bus drivers and teachers, housed within the city."
Project supports our goals
Construction of the project is expected generate approximately 900 off-site and on-site jobs, supporting our goal of simulating Vancouver's economy while meeting urgent housing needs. The project also demonstrates our commitment to ensure housing is used as homes first by prioritizing market and below-market rental housing that meets local needs, recognizing the majority of households in Vancouver rent.
Housing and economy quick facts
1/3 of Vancouver renter households (approximately 52,000 renter households) spend over 30% of their income on rent. Of these, over 80% earn less than $50,000/year
Over 90,000 renter households across BC have applied for the Temporary Rental Supplement
In Metro Vancouver, finance, insurance, and real estate industries are the top contributors to the regions GDP, accounting for 31% of the GDP (2017)
Across BC the property development industry was estimated to employ 233,600 people in direct and indirect positions