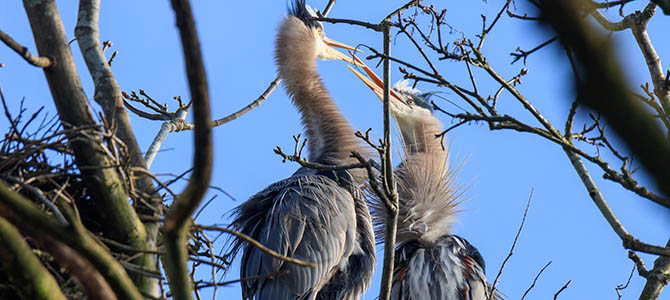 The herons have landed! Pacific Great Blue Herons return to Stanley Park for 21st year
The Heron Cam provides a positive experience of a rare, local triumph - one of the only and largest urban heron colonies in North America.
Park Board Chair Camil Dumont
February 23 2021 –
The Pacific Great Blue Herons are nesting again in Stanley Park for the 21st consecutive year.
They began returning February 18 to a colony located at the Vancouver Board of Parks and Recreation office on Beach Avenue. It's one of North America's largest urban heron colonies.
Heron Cam live streaming
The Park Board's Heron Cam is once again live streaming with a birds-eye view of 40 nests until the end of the breeding season in August. Viewers can take control of the camera, zooming in on multiple nests, using different angles.
Last year, 90,011 visits were made to the Heron Cam by 20,248 unique visitors. It was most popular when the herons arrived on February 21 and in May and June when the eggs and chicks are best seen.
Herons, nest, and fledglings in 2020
Last year's nest success increased to 80% from the previous year's 69%. These successful nests produced 2.07 fledglings per nest on average. A nest is considered successful when it fledges one or more chicks, as opposed to failed nests that were occupied at one point but did not fledge any chicks. Nest success has been steadily increasing since a low point of 52% in 2017.
Based on the count of fledglings and active nests in the sample, it is estimated that there were 155 fledglings in 2020. This estimate is a continued increase from the last two years and is higher than the 10-year average of 126 fledglings.
Human activity and visitation in Stanley Park was much reduced in 2020 due to the COVID-19 pandemic, but this didn't appear to have any impact on the heron breeding season. Last year's monitoring results fall within range of those of previous years suggesting breeding success is not strongly affected by human activity around the Stanley Park colony.
About the heron colony
The heron colony is one of the only and largest urban colony in North America. The species has been globally declining over time (provincially blue-listed and of special concern), so this colony is becoming increasingly important for the Pacific Great Blue Heron population. Public education on the significance of protecting this fragile colony is crucial. The Heron Cam allows for non-invasive monitoring, contributing to some of the most detailed documentation on a Great Blue Heron colony in the world.
The Heron Cam supports the Park Board's Biodiversity Strategy and Vancouver Bird Strategy, and allows the Stanley Park Ecology Society (SPES) to better monitor and protect the health of the colony.
The SPES' 2020 Stanley Park Heronry Annual Report says the first eggs were laid on March 24, and the first hatchlings were recorded on April 23. Previous colony records show the herons arriving between late February to mid-March, with the earliest recorded date being January 14. (2 MB)
Facebook Q and As and more to come
This year, SPES staff will offer moderated Facebook Live Q and As throughout the season, where they will answer questions about the herons.
SPES will set up physically-distanced, in-person interpretation at the colony during spring and summer to answer questions and share colony news.
Follow the Park Board Facebook and SPES Facebook pages to receive updates.
About the Pacific Great Blue Heron
The Pacific Great Blue Heron is unique because it does not migrate. Their natural year-round habitat is the Fraser River delta which is under pressure from urban development, resulting in the loss of feeding and breeding grounds. One third of Great Blue Herons worldwide live around the Salish Sea and the Stanley Park colony is a vital part of the south coast heron population.
Heron Cam is a collaborative effort between the Park Board and SPES, whose Adopt a Heron Nest program invites donors to support efforts in public education, monitoring, and maintenance of the heron colony and their habitat in Stanley Park.
Quotes
"The Heron Cam provides a positive experience of a rare, local triumph — one of the only and largest urban heron colonies in North America — and offers a unique virtual opportunity to experience the colony remotely, especially important during COVID-19 times," said Camil Dumont, Park Board Chair.