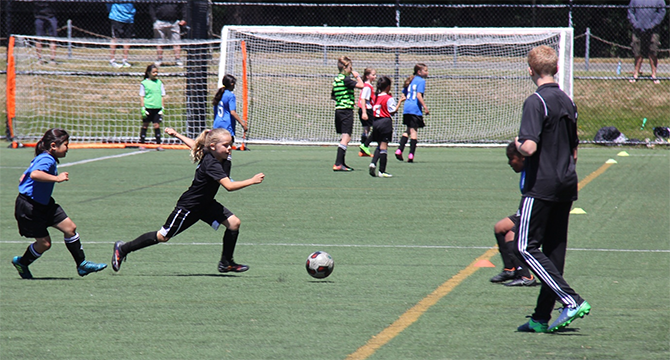 Pitch your ideas for the future of Vancouver's sports fields
November 30 2021 –
The Vancouver Board of Parks and Recreation is putting players, pitch users, and park goers at the centre of a major strategy to create and refresh the city's sports fields over the next ten years.
The Sports Fields Strategy builds on the recent Playing Field Upgrade project and addresses feedback from over 2,000 people heard during that process, including the need for more synthetic turf fields across the city. (3.6 MB)
Part of VanPlay, Vancouver's Parks and Recreation Services Master Plan, and created with a goal to improve the quality, quantity, use and access of the city's outdoor sports facilities and associated amenities, the strategy will:
Examine priorities and phasing for replacing and renewing existing facilities.
Identify potential locations for new facilities.
Include a review of natural and synthetic turf surfacing.
Review the field use allocation policy and fee structure.
The first round of engagement begins today with the development of the strategy carrying through to summer 2022. Throughout the project, we'll be engaging with the Vancouver School Board, local sport organizations, the community, and all those who use our sport fields to ensure the new strategy is founded on equity, and meets the needs of diverse communities across the city.
A city-wide external advisory group comprised of community members with diverse backgrounds and expertise will also be assisting in advising the process.
Opportunities to get involved
We want to hear from all sport field users, whether you play casually or competitively. What do you love? What would you change? How do you imagine the fields you use in the future?
With your help, we can create a shared vision for Vancouver's sport fields that will work for everyone over the next ten years.