Our proposed Urban Farming policy is going to Council for approval
February 18 2016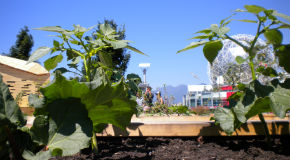 By introducing policy to support urban farming, we are continuing our efforts to:
Increase food access
Support the local green economy
Support sustainable food systems
A report to Council on February 23 recommends:
Adopting an urban farming definition and regulations in the Zoning and Development Bylaw
Amending the License Bylaw to add an urban farming category
Key recommendations to support urban farming
Create two new land use classes for urban farms for:

Residential (Class A)
Industrial and commercial zones (Class B)

Create a business licence category for urban farmers
All farm sites will require a business licence and need to demonstrate a lease agreement with land owner
Develop urban farming definitions:

'Cultivation of fruits or vegetables for sale' (Class A)
'Cultivation of fruits and vegetables with a greenhouse or other structure for sale' (Class B)

Farms can grow up to:

325m2 in residential areas
7000m2 in commercial or industrial areas
Public hearing is expected in March or April
If approved, City Council may request a public hearing to consider bylaw amendments related to urban agriculture. A Public Hearing will take place in March or April.
The recommended policy changes will help legitimize urban farming from a land use perspective, and create a:
Consistent approach to urban farming inquiries
Clear regulatory process
Clear guidance on best practices
The policy changes will be considered a pilot for two growing seasons and will be monitored and assessed by staff in order to report back in November 2017 on the effectiveness of the initiative and recommend any necessary changes.
Policy changes will contribute to achieving our key City strategies
The policy changes will help legitimize urban farming and will contribute to achieving:
What are urban farms?
Urban farms are where fruits and vegetables are grown primarily for sale, or consumed by someone other than the growers. Urban farming differs from other types of urban agriculture, such as community gardens, in that food is primarily grown for sale, rather than for personal consumption of for hobby growing.
Currently, there are approximately 18 urban farm businesses operating in Vancouver, along with an active Urban Farming Society, a non-profit dedicated to increasing the sustainability of urban farming in Vancouver.