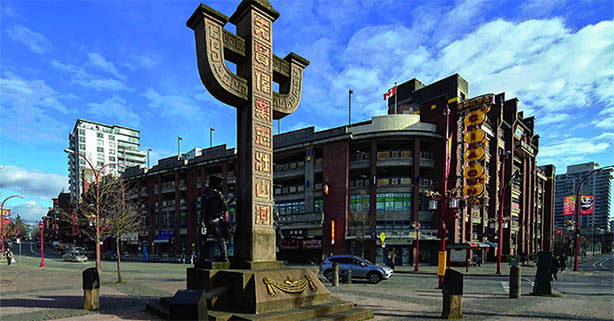 Public invited to provide input on redesign of Chinatown Memorial Square
May 19 2021 –
Chinatown Memorial Square, in the heart of Vancouver's Chinatown, will undergo a redesign to improve it as an accessible public space that enhances the community's culture and history.
A survey to gather public input on a vision to guide the design of the plaza is available now until June 9, 2021.
History of the square
Located at the corner of Keefer and Columbia streets, Chinatown Memorial Square has served as a valued public space in the community. The square has hosted important community events such the Remembrance Day ceremony, and draws many visitors to the neighbourhood where they can learn about the contributions of Chinese people in Canada. As an important part of Chinatown's living heritage, the square also provides a space for community members to honour their culture and traditions.
Chinatown Memorial Square project
The Chinatown Memorial Square project originated as a recommendation from the Historical Discrimination Against Chinese People in Vancouver report to City Council in 2017. Since then, our Chinatown Transformation Team has been working with the community on the long-term goal of seeking UNESCO World Heritage Site status for Chinatown. Improving cultural heritage assets such as the Chinatown Memorial Square to support Chinatown's living heritage is a key component of this work.