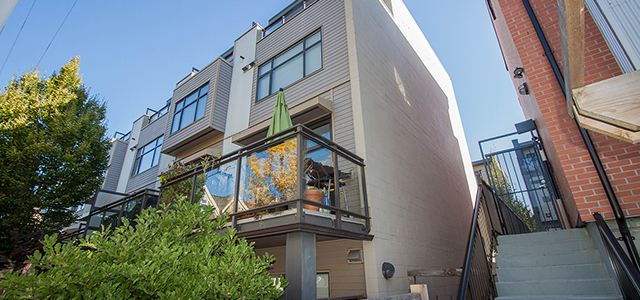 Q3 Housing Vancouver update shows need for stronger focus on rental units
November 7 2019 –
Through the first three quarters of 2019, housing targets in several areas are on track to meet the City's 10-year goals.
Purpose built rental approvals are currently below the 10-year 20,000 unit target, and the City will be focusing in several ways on incentivising the creation of this much needed rental stock in the coming months.
Key 2019 metrics
The City has approved 2,987 units of housing in the first three quarters of 2019, including:
601 townhouse units approved (the highest ever and 120% of annual targets)
364 laneway houses approved (91% of annual targets)
529 social and supportive housing units approved (44% of the annual target). This includes 427 units on city land, over 300 of which are in partnership with the Vancouver Community Land Trust
649 purpose-built rental units approved (32% of the annual target), with the majority (64%) being approved through the city's rental incentive programs
Key trends
Over half of all new housing units approved were family-sized, which will provide two and three bedroom units as part of dedicated programs to encourage larger family-oriented housing.
There has been a record number of townhouse approvals and over 360 laneway homes approved in this period.
This period saw fewer purpose-built rental projects coming forward for council approval than in previous years, and the City is not meeting its 10-year targets for new purpose-built rental housing overall.
There have also been limited social and supportive housing approvals compared to last year, which was the highest level of approvals in a decade. Continued inter-governmental partnerships will be needed to improve this trend.
Approvals for housing that meets the needs of households earning under $80,000 per year are also below Housing Vancouver targets. This level of affordability typically requires partnerships with other levels of government and the non-profit and private development sectors.
Next steps
The City's existing and anticipated partnerships and policies that work towards delivering these units include:
Rental Incentive Program Review to explore the effectiveness of the programs in delivering new purpose-built market rental housing
Implementation of the Moderate Income Rental Housing Pilot Program (MIRHPP), with 4 applications (approximately 240 rental units and 61 MIRHPP units) anticipated to reach Public Hearing in winter 2019
Major Project sites anticipating submission of rezoning applications to deliver additional social and below-market and market rental housing, including Heather Lands and the Oakridge Transit Centre
Additional city land sites to be developed in partnership with the Community Land Trust for social and co-operative housing
Launch of newly approved Community Housing Incentive Program (CHIP) which will provide capital grants to non-profit housing providers developing their land with a focus on deepening affordability in social housing projects
Ongoing Broadway Planning process which includes exploring opportunities to enable more social, market and below-market rental housing close to transit and amenities
Expo Line Station areas from Nanaimo to Boundary Road to be explored as an early planning initiative under the Vancouver Plan planning process to enable delivery of social, market and below-market rental housing choice
Development of an Affordable Housing and Community Spaces Incentive Program to create opportunities for additional non-market housing
Full reporting on progress towards targets for all of 2019 will be presented to Council early in 2020 through the annual Housing Vancouver Progress Report and Data Book.
Housing Vancouver background
Housing Vancouver is the 10-year housing strategy for the City of Vancouver to foster a diverse, vibrant community. The strategy is based on 3 core principles: retaining the diversity of incomes in the city; shifting current housing production toward rental housing in order to meet the greatest need; and setting ambitious targets for housing for very low-income households, which are achievable with coordinated action from the City and partners.
These principles are enacted through housing targets designed to meet the needs of Vancouverites of all incomes, with a three-year action plan that includes over 110 actions.
Housing Vancouver Key priorities
Creating 72,000 housing units over the next 10 years to shift to the "right supply" of housing affordable to local incomes
Prioritizing the creation of rental housing to meet the greatest need. Two-thirds of new homes will be rental, with 20,000 purpose-built market rental units over the next 10 years
Seeking to retain housing diversity, with nearly 50% of homes for households earning less than $80,000 per year
Setting the ambitious target of 12,000 social and supportive housing units, to respond to households with a range of incomes, including very low incomes or those who are at risk of homelessness
Putting an emphasis on family housing, with approximately 40% of new homes to be suitable for families
Enabling more types of housing suitable for families and downsizing seniors, with 10,000 units targeted that includes townhouses, row houses, and infill housing
Links