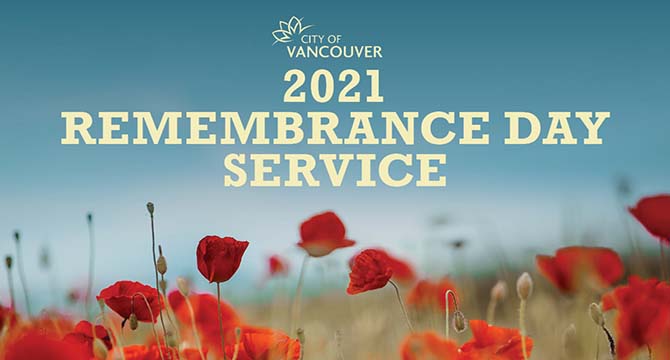 Remembrance Day ceremony will be livestreamed
Annual Remembrance Day ceremony remains virtual
November 9 2021 –
A modified version of Vancouver's annual Remembrance Day ceremony will be held at 10:30am on Thursday, November 11, to honour Canada's veterans and to mark the 76th anniversary of the end of the Second World War.
The City of Vancouver and the Vancouver Remembrance Day Committee are reminding the public to honour Canada's veterans by watching this year's ceremony safely from home.
While the BC Centre for Disease Control's restrictions on outdoor gatherings are more relaxed than in 2020, we urge members of the public to avoid the ceremony site this year for the protection and safety of veterans participating in the ceremony in-person at Victory Square.
Watch the ceremony online
The event will be livestreamed on our Facebook page .
Members of the public are encouraged to watch online for the full ceremony experience and share the live stream on their social media. Victory Square will be closed, with no public wreath-laying permitted until after 4pm. There will be no parade or screens for viewing the ceremony on site. Only official wreaths will be placed at Victory Square by a limited number of dignitaries invited to attend in-person, in order to protect the elderly and health compromised individuals participating in the commemoration ceremony.
The Remembrance Day service is organized by the Vancouver Remembrance Day Committee, a volunteer group established in 1946 with the mandate to conduct the ceremony every November 11 on behalf of its citizens.