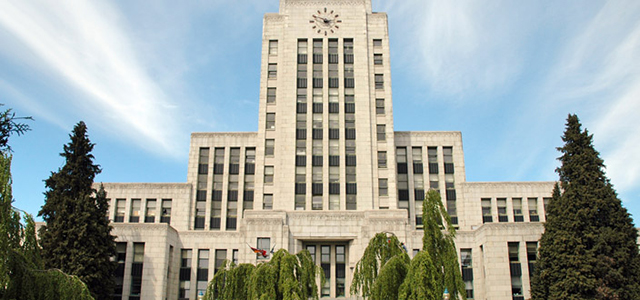 Rezoning for new Indigenous-led housing project approved by Council
Proposal addresses urgent need for urban Indigenous-led and managed new permanent social and supportive housing, and shelter beds in the Downtown Eastside
We are pleased to be working alongside the Vancouver Aboriginal Friendship Centre Society and BC Housing to put reconciliation into action.
Mayor Kennedy Stewart
February 17 2021 –
An Indigenous-led development that will provide more than 160 new homes and 80 new shelter beds, as well as a social enterprise space, reached an important milestone last night when Vancouver City Council approved of the rezoning proposal.
BC Housing, the Vancouver Aboriginal Friendship Centre Society (VAFCS), and the City of Vancouver are partnering on this housing project, which will create quality housing for Indigenous families and individuals to call home.
This City-owned site was first identified in 2016 to deliver social and supportive housing and a shelter for Indigenous people, in response to the Metro Vancouver Aboriginal Executive Council (MVAEC) Call for Action on Housing and Wellness.
Proposed project features
The proposed project at 1015 East Hastings would include:
80 welcoming, safe permanent shelter beds for people and families experiencing homelessness, operated by VAFCS
25 homes with supports for people who are ready to move from the shelter to more independent living
85 affordable rental homes
53 market rental homes
Social enterprise space operated by VAFCS on the ground floor
With the rezoning approved, the project will proceed through the development permit approval process. If approved, it is anticipated that construction on the project could later this year.
Centering Indigenous voices
VAFCS have led the proposal to ensure that it centres Indigenous voices and continues to serve Indigenous residents across all housing and service components of the project. The development is intended to reflect the area's rich and vibrant Indigenous history and traditions through the architecture, design, and use of the space.
If approved through the development permit process, VAFCS will continue to manage the shelter in its new location, the new homes with supports, and the affordable rental for low-income singles and families. VAFC would also manage and create a social enterprise space to benefit Indigenous programming and organizations. At this time, it is undetermined who would manage the market rental building.
Serving low-to-moderate income residents
The housing would serve low-to-moderate income residents, including families, singles, people with disabilities, and Elders/seniors. One-third of the units will rent at the shelter component of income assistance, which includes all 25 units with support services. Another one-third of the social housing units will be at rents geared to income up to the maximum Housing Income Limits (HILs) and the remaining one-third will be at low end of market rents. BC Housing, the City and its partners continue to seek financial contributions from senior government in order to deepen the level of affordability in this project. (60 KB)
The proposal meets and exceeds the City's definition of social housing, securing 50% of all units for households with incomes at or below BC Housing's Housing Income Limits . (60 KB)
The project is being developed in consideration of our Downtown Eastside Plan, our response to MVAEC's Call to Action, and the Housing Vancouver Strategy.
Quotes
Susan Tatoosh, Executive Director, Vancouver Aboriginal Friendship Centre Society
"We have long been advocating for a new shelter and homes that will serve the needs of urban Indigenous Peoples. These new homes and shelter are an important opportunity to create a safe space where people from all walks of life can come together and feel accepted and valued. We look forward to opening day when residents will open the door to their new homes, neighbours will connect to each other through community events and gatherings, and people from all cultural backgrounds will be welcomed to proudly express and share their culture."
David Eby, BC Attorney General and Minister Responsible for Housing
"This project will have a significant impact on the lives of hundreds of Indigenous peoples in Vancouver. We're proud of the partnership that is delivering it. Our government will continue to invest in projects like this and we are hopeful the federal government will join us in building more homes for Indigenous peoples on- and off-reserve throughout the province."
Mayor Kennedy Stewart
"The importance of this project cannot be overstated," said Mayor Kennedy Stewart. "We are pleased to be working alongside the Vancouver Aboriginal Friendship Centre Society and BC Housing to put reconciliation into action by providing vital housing, shelter beds, and social enterprise space for hundreds of urban Indigenous residents in our city."