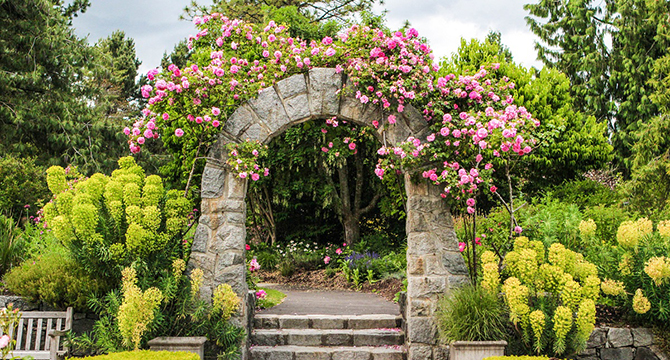 Roses are a riot of colour in Stanley and Queen Elizabeth parks and VanDusen Botanical Garden
June 18 2021 –
June is the month of roses and they are in full bloom now at Stanley and Queen Elizabeth parks and VanDusen Botanical Garden.
Cultivated for more than 5,000 years, the rose has been revered, not only in gardens, but in the art and literature of many cultures.
The weather this spring has been great for roses because cool nights and mornings 'refrigerate' the blooms, while the sun and heat opens them up.
Stanley Park and Queen Elizabeth rose gardens
The 101-year-old Stanley Park Rose Garden contains 3,000 roses, while the 54-year-old Queen Elizabeth Rose Garden has about 2,500 roses located in beds that reflect the shape of Queen Elizabeth II's Imperial State Crown.
There is no charge to visit the gardens, which offer a perfect place for a picnic.
Modern rose varieties have been bred for disease resistance. Varieties in the two gardens include hybrid tea, climbers, ramblers, long stem, English form, boulevard, floribunda, shrub, flamingo, and grandiflora, and Beverley.
VanDusen Botanical Garden rose gardens
There are almost 700 rose plants in the VanDusen Botanical Garden, which has both a Formal Rose Garden and Heritage Rose Garden. The formal garden has a selection of hybrid tea, floribunda, shrub roses and climbers bordered by boxwood hedges in a classic parterre or patterned design in the shape of a butterfly. The Heritage Rose Garden is home to the unique crested moss or Chapeau de Napoléon rose. Its name, French for 'Napoléon's hat', refers to the rose's unique sepals surrounding new flower buds which resemble Napoléon's famous crested bicorn hat.
VanDusen features several of British Columbia's six native rose species. The showiest of these, Nootka rose, has large, ethereal, pale pink blooms and edible hips that can be dried and used in tea – an excellent source of Vitamin C.
Roses typically bloom until September, but are at their peak in June.
View other seasonal blooms
Visitors can pick up a June bloom guide on their way into the Garden to find other seasonal highlights such as kousa dogwoods, perennial nasturtium, and primulas. Tickets must be booked for a designated entry time in advance at vandusengarden.ca.
VanDusen Botanical Garden, located in the heart of Vancouver, spans across 22 hectares (55 acres) with more than 7,500 unique species and varieties of plants arranged in 70 distinct collections. The Garden is jointly operated by the Vancouver Board of Parks and Recreation and Vancouver Botanical Gardens Association.