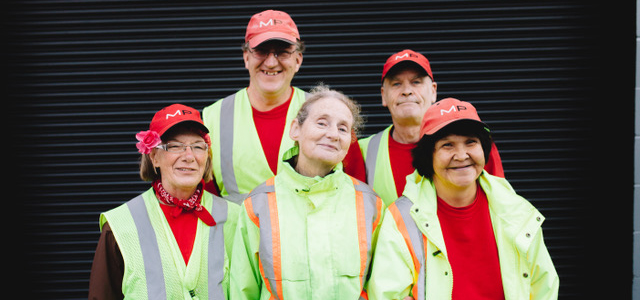 Seven non-profits awarded Street Cleaning Grants
Supporting low threshold employment and public realm cleanliness
February 11 2020 –
Vancouver City Council has approved funding for seven local non-profit organizations as part of the City's annual Street Cleaning Grant Program.
For over 20 years, the Street Cleaning Grant Program has provided funding to non-profit organizations for micro cleaning services, which play a major role in keeping Vancouver clean by supplementing work done by City crews, and provide meaningful, low-barrier job opportunities for people who need them the most.
"Local non-profits that provide micro cleaning services play an important role in keeping Vancouver's lanes and streets clean. We are happy to support these agencies as we continue to prioritize public realm cleanliness and socially inclusive waste diversion initiatives" says Lon LaClaire, General Manager of Engineering.
Micro cleaning involves the daily collection of litter and needles on foot using brooms, shovels, and wheeled garbage carts. The work supplements the street cleaning work done by City crews, which is focused on emptying receptacles and collecting litter using sweepers, flushers, and other vehicles.
Grant recipients
The 2020 program will award $1,840,000 in grants to seven local non-profit organizations:
Save Our Living Environment – United We Can ($398,600)
Coast Mental Health Foundation – Employment Services Program ($566,000)
Mission Possible Compassionate Ministries Society - MP Maintenance ($681,000)
Family Services of Greater Vancouver – Street Youth Job Action ($73,100)
The Kettle Friendship Society – SEED Employment Program ($48,800)
Tides Canada Initiatives Society -The Binners' Project ($55,000)
Canadian Wildlife Health Cooperative – The Rat Project ($17,500)
The grants also support socially inclusive waste diversion initiatives, local BIA cleaning programs, and strategies aimed at addressing challenges related to rat populations in the City.
2019 grant results
In 2019, grant funding resulted in:
Micro-cleaning in an area covering 7 square kilometres and 22 BIAs
65,100 low-threshold employment hours
19,000 bags of litter collected
111,000 needles collected from streets and lanes
While the City and our dedicated partners continue to work to keep our streets clean, residents can do their part by reducing waste, disposing of their garbage responsibly, and by participating in the City's year-round community-based litter cleanup program, Neighbourhood Cleanup Party.
Find more information about the Street Cleaning Grants Program
View the Council report (122 KB)