Snow Angels: a gift that keeps on giving
December 14 2016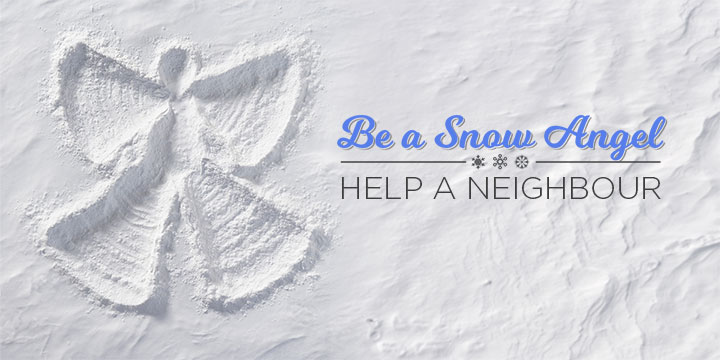 Thanks to the generous help of 29 Vancouver residents, more than 45 City blocks were cleared of snow between December 5 to 11 by volunteer Snow Angels who took the time to help seniors and people with limited mobility clean their sidewalks of snow and ice.
Before the recent snowfall, there were 16 registered Snow Angels with the City of Vancouver and that number nearly doubled to 29 following the first snowfall on December 5.
Be a Snow Angel
The registration process is quick and easy. Once registered, you receive requests from our Snow Angel coordinator to clear snow and ice from neighbours' sidewalks.
Remember to clear your sidewalk of snow and ice
All Vancouver property owners and occupants (tenants) are responsible to clear snow and ice from the full width of sidewalks that surround their property by 10:00am the morning following a snowfall. This responsibility is in effect seven days a week. Property owners and occupants who fail to remove snow and ice may be subject to fines.
You can also help by keeping storm drains clear of leaves and snow to prevent flooding.
Need assistance?
If you require assistance to clear your sidewalks, phone 3-1-1 and staff will connect you with a Snow Angel in your area. With temperatures currently below freezing, Snow Angels are using salt we provide to help clear sidewalks for seniors and people with limited mobility who have requested assistance.
About the Snow Angel requests
Between December 5 to 11, we received 108 requests for help to clear sidewalks.
A majority of the requests to become a Snow Angel or to receive assistance from a Snow Angel come through the City's 3-1-1 Contact Centre. During the recent snow fall, the call centre received 1,540 snow and ice removal inquires alone. During the same period December 5 to 12 in the previous year, we received five.
The 3-1-1 Contact Centre is well equipped to handle increased calls volumes from extreme weather events such as the recent snowfall. In preparation for increased calls related to snow, the centre brought in extra customer support representatives on December 5.
Our 3-1-1 Contact Centre
The 3-1-1 Contact Centre:
Is available from 7:00am to 10:00pm, 365 days a year
Provides information on City of Vancouver services, including 175 language services
Callers do not need to speak English: (Just call and say, "Mandarin" or "Romanian" in your language of choice and after a short wait, called are transferred to somebody who can speak that language.)
Callers can:
Receive information about City services
Send service requests for non-emergency services
Share concerns, and provide feedback
Download VanConnect
Use VanConnect to access services. We launched our VanConnect app at the end of May 2015 and there have been almost 35,600 app downloads to date. Approximately 600 service requests per week are submitted via the app covering all areas of our operations.
Learn more and download VanConnect