Statement on the Kinder Morgan Trans Mountain pipeline approval
November 29 2016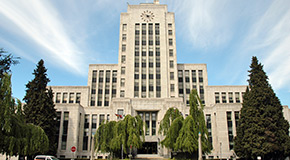 We are disappointed by today's decision by the Federal Government to approve Kinder Morgan's Trans Mountain pipeline (TMP) expansion project which is a step back for our environment and economy.
The decision to support the TMP application goes against mounting opposition from communities throughout BC, 17 First Nations, the Province of BC, and 20 municipalities representing over two million people.
We strongly and formally oppose the approval of the TMP expansion project. Our opposition is rooted in evidence, scientific data, and traditional knowledge.
With the insight gathered from the expert evidence reports commissioned by us and our partners, we concluded that – despite what Kinder Morgan asserts – the risks and costs of the pipeline proposal outweigh any benefits that Vancouver may experience. This conclusion was based on the following findings:
The National Energy Board process was fundamentally flawed and provided no opportunities for oral cross-examination.
Kinder Morgan's assessment systematically underestimated the risks to Vancouver.
The existing pipeline has a history of spills and was approved with no environmental assessment.
There are significant gaps in preparedness for a major spill.
Any spill would have severe impacts on marine mammals who use the Burrard Inlet and the Fraser River estuary.
The impact of an oil spill from seven times the number of oil tankers transiting our harbour each month is simply too high, and would have catastrophic impacts on our coast.
We will continue to raise concerns with this expansion project to ensure the safety and protection of our environment, economy, health, and residents.
We thank all of the residents, businesses, and partners in Vancouver who:
Shared their thoughts and concerns via our online survey
Sent notes to provincial and federal elected officials via our Not Worth the Risk website
Attended any of our public events or Council sessions