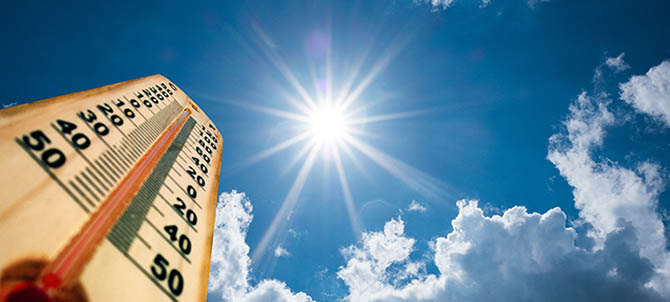 Support for residents as temperatures rise
June 24 2021 –
With an unseasonably warm weekend around the corner, and a heat warning in effect, the City of Vancouver and Vancouver Board of Parks and Recreation are preparing to help residents beat the heat this weekend, and into the summer months.
Water fountains and misting stations
We have deployed ten temporary water fountains throughout the city to augment over 200 drinking fountains. Starting on Friday, temporary misting stations will also be installed at locations throughout Vancouver including:
Columbia and Powell (NE corner)
Robson and Cardero (SW corner)
Granville and W 10th (NE corner)
Commercial and E 10th (NE corner)
Thornton Park (East side)
Andy Livingston Park (NW corner)
Nelson Park (SE corner)
West Blvd and W 45th Av (SE corner)
Air-conditioned facilities
Residents can visit one of our air-conditioned community centres.
Britannia - 1661 Napier St
Carnegie - 401 Main St
Evelyne Saller Centre - 320 Alexander St
Gathering Place - 609 Helmcken St
Hillcrest - 4575 Clancy Loranger Way
Kerrisdale - 5851 W Boulevard
Mount Pleasant – 1 Kingsway
Ray-Cam - 920 E Hastings St
Roundhouse - 181 Roundhouse Mews
West End - 870 Denman St
All Vancouver Public Library locations also have air-conditioning and everyone is welcome at these facilities to cool down and rehydrate.
Beaches, spray parks, and wading pools
Residents looking for a place to cool off outdoors can beat the heat at parks, beaches, and most swimming pools.
Outdoor pools
Our outdoor pools at Kitsilano, Second Beach, New Brighton, Hillcrest Centre and Maple Grove are all open until September 6. Swim session reservations are required.
Water spray parks
Water spray parks are now open at:
Connaught
Grandview
Hastings
Oak
Prince Edward
Pandora
Garden
Harbour Green
Stanley Park Lumberman's Arch
Chaldecott
Maclean
Norquay
Water parks are push-button activated to turn on water for five minutes at a time.
Beaches
The public will be alerted via our beach page if a beach is closed due to water quality issues. We encourage the public to monitor these pages which link directly to Vancouver Coastal Health's water quality readings.
Protecting vulnerable populations
Due to the extreme heat warning issued by Environment Canada for this coming weekend, additional measures to protect residents facing compounded challenges of COVID-19 and heat include:
Community centres in the Downtown Eastside will offer water to patrons requesting it or in need of hydration, as well s supporting patrons with sun block
Our Non-Market Housing Operations is implementing a hot weather support plan for tenants, which includes increased wellness checks, and provision of bottled water and table-top fans for those residents not able or wanting to leave their rooms. Additionally, air-conditioned common area spaces will be available for residents to seek respite from the heat
Sharing heat safety messaging with operators of many of Vancouver's SROs and requesting that they check on residents who are vulnerable to heat
Emergency service personnel and volunteers will be vigilant for people who may be suffering from or are at risk of heat exposure
Providing additional information through our website to ensure people are aware of heat warnings and can access the information they need.
Care for your pets
Animals with fur coats are particularly susceptible to the heat, as they are not able to cool themselves down easily and can overheat quickly. Leave them at home in a shaded area, or take them to an off-leash dog park with access to water.
The temperature in a parked car can heat rapidly, so it's extremely dangerous to leave an animal unattended in a vehicle. If you see an animal in distress please report it to the BC SPCA immediately.
Off-leash parks that have access to water:
Sunset Beach Park
Hadden Park
Spanish Banks Beach Park
John Hendry (Trout Lake) Park
New Brighton Park
Respite from wildfire smoke
Extreme heat and wildfires are often connected. Should you need respite from wildfire smoke, a number of our facilities offer spaces with high efficiency particulate air (HEPA) filtering, or MERV filters, which create cleaner air. In the event of an air quality advisory, anyone looking to reduce their exposure to wildfire smoke is welcome to go to these cleaner air spaces:
Mount Pleasant Community Centre
Carnegie Community Centre
Evelyn Saller
Gathering Place
Library locations with these features include:
Central
Joe Fortes
Mount Pleasant
Renfrew
Terry Salman
Cleaner air spaces may be particularly beneficial for people with chronic heart or lung conditions, young children and infants, older adults, or people who are pregnant.