Thousands expected to take in Honda Celebration of Light
July 26 2013 Respect neighbours and stay safe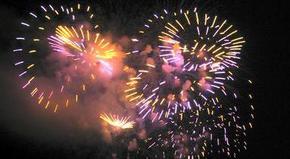 Vancouver's downtown skies will light up on Saturday when the 2013 Honda Celebration of Light kicks off the first of this year's three fireworks shows over English Bay.
Thousands of people are expected to take in the shows on July 27, July 31, and August 3 from vantage points on and around English Bay, the Kitsilano beaches, and throughout the West End.
Take the bus, cycle, or walk to avoid delays caused by street closures
Taking transit, cycling, or walking is always your best bet to get to the fireworks as many street closures will be in effect.
Motor vehicle access will be restricted - beginning at 6:30pm for Kits Point and 7:30pm for the West End - to residents with parking decals for the neighbourhood, or those whose vehicle registration displays a neighbourhood address.
Pedestrian exit routes will be posted in the West End:
Burnaby Street for the Burrard and Waterfront Stations
Beach Avenue for Yaletown Station
Guilford Street to access Georgia Street bus routes.
If you're travelling on two wheels, take advantage of the complimentary bike valet at Sunset Beach.
Help us make this a zero waste event
We are working to make the Honda Celebration of Light a zero waste event, and have set up recycling and garbage bins on the beach. Please, if you're taking in the show, pack out what you pack in, clean up your garbage, and respect residents who live in the area by keeping noise to a minimum as you leave.
Open alcohol is prohibited on Vancouver's beaches, streets and parks. Please help keep this year's celebration a family-friendly event by limiting alcohol consumption to licensed establishments.
Easily find your friends and family
Beach marker signs will be placed along English Bay to help you find your friends and family.
If you're hoping to take in the show from the beach this Saturday, July 27, please be aware that a high tide will peak at 12.2 feet at 9:49 p.m. Signs will be posted on the beach and Parks staff will be on hand to ensure your viewing spot is not below the high tide line.
If you are a boater, remember to follow safe boating guidelines and carry your boating license at all times.
Get more detailed information
For detailed information on vehicle access points and other information, visit the Honda Canada Celebration of Light website: