Update on City of Vancouver operations December 27th
December 27 2017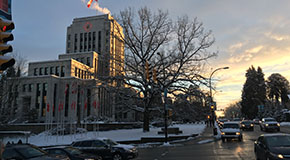 We are starting to see snow move across the Lower Mainland now.
Snowfall amounts should be light, generally 2 to 5 cm. Starting later this afternoon however, this could change quickly.
Overnight City Sanitation crews have been on shift since 7:00pm until 7:00am this morning running salters. Street Operations crews took over at 7:00am running all available salters over City streets to proactively deal with anticipated snow falls.
Action plan for the day
Here's the proactive work we're currently doing today:
26 trucks salting regular routes
4 trucks dedicated to salting school and hospital areas
4 trucks dedicated to priority hills: 3 salting and 1 brining
3 vehicles dedicated to bikes routes and seawall: 2 salting and 1 brining
4 trucks prepped to respond to trouble calls; also salting known leaks and hills
12 crews hand salting bus stops and corner ramps, as well as checking that catch basins are clear
4 Street Ops trucks salting laneways for Sanitation access
6 Sanitation crews hand salting laneways for access
Residents are encouraged to check the weather often, anticipate snow falls and adjust travel times.