Update on Le Marche St. George
December 9 2015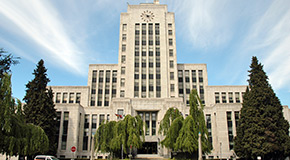 In response to several media requests, we would like to clarify that Le Marche St George, a popular local market in East Vancouver, is not about to be shut down by the City.
Reports about an imminent closure as early as this weekend are completely false.
As stated yesterday, City staff will work with the owners to better understand business practices and look at options to enable the activities at Le Marche St George to continue.
Supporting local businesses
We value local businesses and want to increase and enable cafés and patios throughout the city. The latest example of these efforts is the:
Le Marche St George is approved as a grocery store. A recent complaint from a neighbour identified some bylaw issues related to their restaurant and special events. Regulations of food service industry falls to Vancouver Coastal Health.
We are always looking to:
Update outdated bylaws to enhance quality of neighbourhoods
Support local independent markets and cafes
Work with the owners to ensure the market and its activities can continue