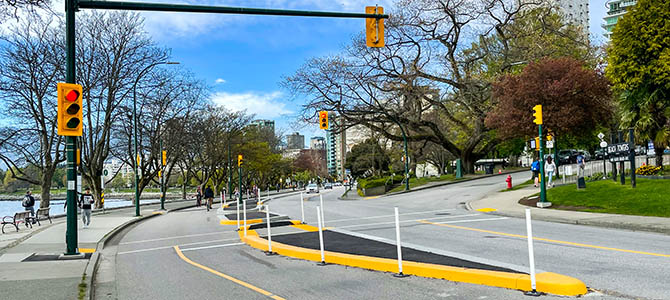 Upgraded Beach Avenue ready for its summer close-up
Transit service resumes as safety and design upgrades finalized
Now that we're facing a third wave of the COVID-19 pandemic and ongoing limits to travelling and socializing, it is crucial that residents continue to have safe and accessible options for walking, cycling, and rolling.
Mayor Kennedy Stewart
April 26 2021 –
Our interim improvements to increase safety and public space for people who walk, cycle, take transit, or drive along Beach Avenue are now complete. Everyone who travels along the popular West End route will see a variety of new features including painted zebra crosswalks, tactile walking surfaces for the visually impaired, modified traffic signals, and bus boarding islands.
We're asking everyone to keep an eye out for these new additions and be respectful of other travellers as warmer weather entices more people to go outside.
Why we made the upgrades
Since last May, we have been re-shaping how we use our streets and public spaces to help residents physically distance and provide opportunities to exercise and travel more comfortably as part of our response to the COVID-19 pandemic.
To respond to new ways on how this key space along English Bay was being used, we repurposed eastbound travel lanes to provide a temporary wider cycling path along Beach from Park Lane to Hornby Street last year.
Since the temporary path opened, it has provided relief along the busy West End waterfront. This past summer, Beach Avenue was the busiest cycling route in Vancouver, regularly exceeding the 10,000 cycling trips per day milestone that other routes occasionally see.
About the upgrades
The complete upgrades include:
Improved pedestrian crossings at key locations:

Painted crosswalks to better prioritize pedestrians crossing the street (at Nicola, Broughton; upgraded to zebra at Chilco, Gilford, Morton, Denman, Burnaby)
Median islands to shorten the crossing distance for people walking (at Denman, Bidwell, Cardero, Nicola, Broughton, Jervis)
Accessible design features such as tactile walking surface indicators, level bus boarding islands and modified traffic signals at Bidwell and Cardero

Traffic cones replaced with sturdier concrete barriers along the two-way protected bike path
Entryway redesign at waterfront parks to allow re-opening and expansion of accessible parking
Eastbound transit (bus #23) resumed on Beach Avenue between Denman and Pacific streets
Motor vehicle traffic restored eastbound between Denman and Pacific streets
The costs for the interim upgrades project was $250,000.
Background
The interim upgrades are based on feedback from more than 2,500 residents who responded to a survey last fall. From the survey, we heard concerns about the one-way traffic and the transit re-route. This feedback was incorporated into our interim upgrades that also reduce the maintenance effort and improve access for walking, transit, and driving.

The public will continue to have additional opportunities to share feedback about the longer-term vision for these spaces and whether to make these changes permanent through the West End Waterfront Master Plan engagement and design process that will start later this year.
Quotes
Mayor Kennedy Stewart
"Now that we're facing a third wave of the COVID-19 pandemic and ongoing limits to travelling and socializing, it is crucial that residents continue to have safe and accessible options for walking, cycling, and rolling," says Mayor Kennedy Stewart. "The City of Vancouver is committed to supporting all COVID recovery efforts that provide safe physical distancing as well as year-round enjoyment of our streets and Beach Avenue represents a significant milestone in these efforts."