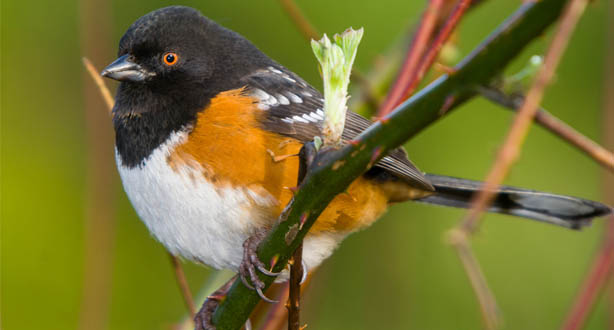 Vancouver Bird Celebration marks 10th anniversary with webinars, talks, lectures, and exhibitions
May 7 2021 –
Look, linger and listen during Vancouver Bird Celebration (formerly known as Vancouver Bird Week) May 8 to 16.
Event highlights
Vancouver Bird Celebration celebrates its 10th anniversary with a week-long series of events to inspire a love of Vancouver's birds. Highlights include:
Inspired by Birds, a panel exploring how inspiration from birds can take many different forms with Stanley Park Ecology Society, May 8
Birds of Prey in BC with OWL (Orphaned Wildlife) Rehabilitation Society, May 9
Fraser River Discovery (Birds of the Fraser Basin) with ornithologist, author, filmmaker and artist Dr. Rob Butler, May 11
Species of birds found in the Lower Mainland
Anna's hummingbird
Steller's jay
Pelagic cormorant
American robin
Spotted towhee
Bushtit
Threats to birds
Take the Nature Vancouver Bird Challenge and see how many birds you can spot! With 20% of Canada's birds currently listed at some level of risk, a love of birds is a first step towards conservation action. Threats leading to declining bird populations include:
Habitat loss
Urban cats
Pesticides
Climate change
Vancouver Bird Celebration
Vancouver Bird Celebration is organized by the Vancouver Bird Advisory Committee, in partnership with City of Vancouver and Vancouver Board of Parks and Recreation. Stanley Park Ecology Society is the coordinator of events.
The event is inspired by World Migratory Bird Day, a United Nations-sponsored initiative that recognizes the importance of birds as key indicators of our environment's health. Vancouver Bird Celebration will include:
Panel discussions
Webinars
Talks
Exhibitions
Lectures showcasing the diversity of bird species that visit the region
Most events are online, but some are in person.
Where to go birding in Vancouver
Local parks such as John Hendry, Everett Crowley, Queen Elizabeth, and Jericho Beach are great places to go birding in Vancouver. At VanDusen Botanical Garden, visitors can spot birds such as hummingbirds, hawks, owls, eagles, and black-capped chickadees. This year Vancouver parks are piloting a number of meadow restoration projects that increase the insect populations that many birds need.
Bird Celebration supports the Park Board's Biodiversity Strategy and City of Vancouver's (5 MB)Bird Strategy . (2 MB)