Vancouver community centres offer programming as teachers' strike threatens to continue
August 28 2014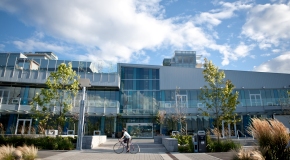 Vancouver Park Board community centres are responding to the BC Teachers' Federation summer-long strike that threatens to continue into the fall. Some centres are offering day-long programming through next week and beyond when public schools in Vancouver could be closed.
Community centres with daycamps
Currently, 14 community centres across the city plan to offer day camps with indoor/outdoor play. They are:
Britannia
Champlain
Coal Harbour
Hastings
Kerrisdale
Kensington
Killarney
Marpole-Oakridge
Ray-Cam
Renfrew
Roundhouse
Strathcona
Trout Lake
West Point Grey 
View and register for daycamps
Prices vary and some classes might already be full. Residents are encouraged to contact their local community centre or 3-1-1 for additional information.