Vancouver Park Board opens new Paddling Centre at False Creek
April 27 2016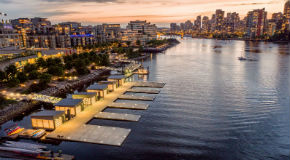 Photograph by Concord Pacific
Vancouver's paddling community now has a permanent home and you're invited to check it out during a community paddle day on Saturday, April 30.
The new Paddling Centre consists of:
Six small storage buildings for non-motorized boats and paddling equipment
Six floating docks
Two entry/exit ramps to improve accessibility
Floating lanterns inspired the design
"Floating lanterns were the inspiration for the centre's design, which the architect captured by using semi-translucent panels and simple cube structures. The building is gently lit at night to achieve the lantern effect," said Park Board Chair Sarah Kirby-Yung. "The Centre is fully accessible and the LED lighting is about as efficient as it gets."
Community paddling day
Check out the new centre during a community paddling day on Saturday, April 30.
Free 45-minute dragon boat paddling sessions and kayak rentals will be available between 12:30 and 3:30 pm.
Learn more and register for free dragon boating

Paddling Centre operators and programs
The Canadian International Dragon Boat Festival Society

and British Columbia Mobility Opportunities Society

will be operating out of the Vancouver Park Board's new $3.2-million Paddling Centre, just northeast of Creekside Community Recreation Centre.
The community centre also contracts Dragon Zone Paddling Club

to offer various programs such as summer camps for children and an introduction to dragon boating.
"We're obviously very excited about having this great facility as we've been looking for a permanent home for 20 years," said Frederic Lajeunesse, chair of non-profit Canadian International Dragon Boat Festival Society. "Our society believes that everyone, regardless of who they are, should have access to the water and paddling based recreation."
Dragon boating's growing popularity
Vancouver's waterfront is a destination for many, including recreational paddlers and athletes who use the waterways for training and competition. Dragon boating, in particular, has been growing in popularity since its introduction to Vancouver at Expo '86 and False Creek has become a home for the sport.
Funding for the Paddling Centre
Funding for the Paddling Centre comes from Concord Pacific via Community Amenity Contributions (money provided by property developers when City Council grants development rights through rezoning) and a $1-million donation from Terry Hui, CEO of Concord Pacific. Concord Pacific has a long history of supporting parks, daycares, docks and infrastructure, and three kilometres of the seawall on the north shore of False Creek.
Previously, paddlers used storage facilities at Creekside Community Recreation Centre, as well temporary wood docks and metal storage containers near the City-owned former ferry dock in the south-east corner of False Creek.
Creating a new non-motorized boating facility for False Creek has been a long-term planning objective by the Park Board and City of Vancouver. The Vancouver Park Board is focused on providing quality recreation programs and services across a range of facilities as outlined in its Strategic Plan

(2 MB).