Vancouver signs global Urban Food Policy Pact at world expo
October 16 2015
"Vancouver is pleased to join a global movement that supports food security, ensuring access to safe, nutritious, affordable food for all," says Mayor Gregor Robertson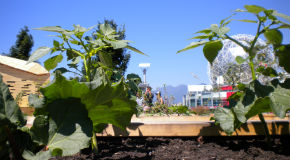 In celebration of World Food Day, we joined over 40 cities across the globe today in signing an Urban Food Policy Pact to address food security and sustainable development. 
"Vancouver is pleased to join a global movement that supports food security, ensuring access to safe, nutritious, affordable food for all," says Mayor Gregor Robertson. "As a city we're committed to supporting and promoting sustainable food systems through our Vancouver Food Strategy, as healthy food systems are central to the health and well-being of our communities."
About World Food Day
Founded by the United Nations' Food and Agriculture Organization, World Food Day is celebrated annually to help increase awareness of world hunger and poverty. 
This year, in recognition of the 70th anniversary of World Food Day and key legacy of the World Expo in Milan, a pact was created by the City of Milan, in partnership with cities around the world to engage mayors and policymakers in the coordination of urban food policies across the globe. 
The Pact will commit cities to:
Develop sustainable food systems that are inclusive
Ensure access to healthy and affordable food
Strengthen urban agriculture practices 
Learn about the Urban Food Policy Pact
Becoming a global leader in urban food systems - Vancouver Food Strategy
In 2013, City Council adopted the Vancouver Food Strategy as part of the Greenest City initiative to become a global leader in urban food systems by 2020. Developing sustainable food systems is also part of the Healthy City Strategy. 
For more than a decade, we have been working in partnership with the Vancouver Food Policy Council and numerous community organizations to support a just and sustainable food system. 
Goals of the Vancouver Food Strategy
The goals outlined in the Vancouver Food Strategy express how we want our food systems to take shape in the future, including:
Supporting food friendly neighbourhoods
Empowering residents to take action
Improving access to healthy food
Making food a centrepiece of the green economy
Direct outcomes of the Vancouver Food Strategy
Some of the direct outcomes of the Vancouver Food Strategy include:
Increased community garden plots
Expansion of farmers markets and urban agriculture projects such as beehives and backyard chickens
View the Vancouver Food Strategy
Join us at the Sustenance Festival - October 13 to 25
To bring further awareness to food security, the Sustenance Festival, a city-wide festival with local food-inspired:
Workshops
Exhibitions
Talks
Walks
Dances
Events will be in community centres and public spaces throughout Vancouver.