Print
Vancouver awarded 'Best Green Policy' by World Green Building Council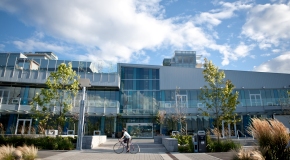 November 20 2013 –
Vancouver was awarded "Best Green Building Policy" for the Greenest City 2020 Action Plan by the World Green Building Council.
The award recognizes the City's leadership on green buildings, particularly two Greenest City targets and related strategies.
The targets are:
All new buildings constructed from 2020 onward to be carbon neutral
Energy use and greenhouse gas emissions in existing buildings be reduced by 20% over 2007 levels by 2020
Vancouver's Building Bylaw and energy efficiency retrofit requirements are two key tools to achieving those targets.
Greenest City 2020 Action Plan
The Greenest City Action Plan is a suite of policies and initiatives aimed to make the city the world's greenest by 2020. The Greenest City initiative was launched by Mayor Gregor Robertson in February 2009.