Walk, bike, and roll to community events this summer
"Active transportation like walking and cycling supports connected communities. People travelling on foot and bike are more likely to engage in a friendly interaction during their trip than those travelling by transit or vehicle."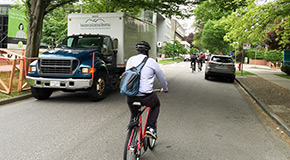 July 5 2017 –
With summer officially upon us and over a dozen events on the horizon, the City of Vancouver is encouraging residents to walk, bike, and roll to get around town.
Festivals such as Khatsahlano Day, the Celebration of Light, and Jazz Festival make for great opportunities to opt for active transportation.
This year also boasts exciting cycling events such as the Gastown Grand Prix and Vancouver's inaugural Our Cityride – an all-inclusive, mass participation activity that is also family-friendly.
Leader in active transportation mode share
"Vancouver is a leader in active transportation mode share in North America, and we're continuing to look at how we can enable Vancouverites to choose walking and cycling more often," says Lon LaClaire, the City of Vancouver's Director of Transportation. "Active transportation like walking and cycling supports connected communities. People travelling on foot and bike are more likely to engage in a friendly interaction during their trip than those travelling by transit or vehicle."
How we get around
Vancouver residents continue to make 50% of their trips by walking, cycling, and transit. Moreover, despite a rainy summer and snowy start to the winter in 2016, Vancouver saw a slight increase in walking and transit over last year, with cycling holding steady at 6.7% of all trips.
In the annual Transportation Panel Survey conducted by the City each fall, it was found that among trips made as part of a commute in 2016, 10% of people travelled to work on bicycle, and 23% of people walked to work.
Additionally, the average distance driven per person continues to decrease, down from 4,319 km per person in 2015, to 4,060 km in 2016. Meanwhile, transit ridership has increased to 16.5%, compared to 15.9% in 2015.
There are clear geographical differences in the ways Vancouverites get around. Walking is most common in the West End and downtown, while cycling is more common in Kitsilano and the Vancouver Port area – made up of the Downtown Eastside, Strathcona, and the Grandview-Woodlands neighbourhoods.
Transportation 2040 Plan
The City's Transportation 2040 Plan aims to make at least two-thirds of all trips by walking, biking, or transit.
To support the 2040 goal, the City also continues to work towards a target of zero traffic-related fatalities and injuries on our road network.
Thanks to the recent partnership between the City and Vancouver Coastal Health, data is now available for non-motor vehicle collisions as well.
Learn more about walking and biking in Vancouver through the 2015 Report Card

(2 MB).