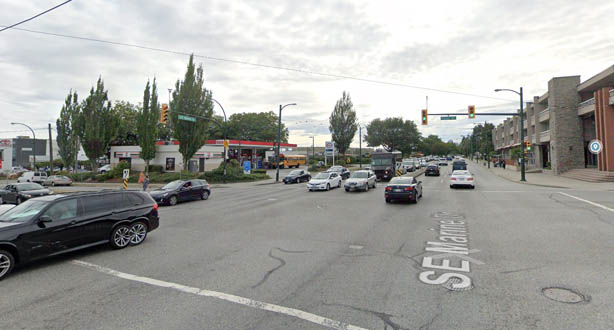 Water, sewer, electrical, and street upgrades on Marine Drive to begin early January
December 11 2020 –
Construction will begin the first week of January 2021 to upgrade water, sewer, street, and electrical infrastructure along five kilometres of Marine Drive from Oak Street to Victoria Drive. This is critical work to ensure our assets are maintained in a state of good repair and to improve reliability and avoid future disruptions to core services for residents.
Work that will be done
Construction activities will be done in sections starting at Fraser Street and will include:
Replacing 4 kilometres of aging water main
Installing 1 kilometre of separated sanitary and storm sewer pipelines
Upgrading traffic signals at eight intersections
Intersection safety upgrades at Cambie and Manitoba streets (left turn arrows to help reduce collisions)
Curb and sidewalk repairs, and pavement resurfacing for improved safety and comfort for all users
The new water main and sewers will be more seismically resilient and have a service life of approximately 100 years. These comprehensive upgrades will ensure that the infrastructure continues to provide existing levels of service and accommodate future growth.
Construction timeline
The project will start January 4, 2021, with an anticipated completion in December 2022.
Traffic impacts
To complete the work, two lanes will generally be maintained in each direction along Marine Drive during peak rush times. For off-peak hours, the two lanes eastbound and one lane westbound will generally be maintained and in addition:
Turning restrictions may be implemented to ease traffic congestion when required
Bus stops along Marine Drive will operate as normal unless notified in advance (to be posted at the bus stop)
Access to residences and businesses will be maintained
Some sidewalk detours will be in effect
Parking will be unavailable in the areas of construction
Work will typically take place Monday to Friday, 7am to 5pm, with some extended hours as needed, including weekends.
Motorists should expect significant delays along Marine Drive in each direction and plan ahead.
We thank all residents, businesses, and commuters in advance for their patience during these critical infrastructure upgrades.