Print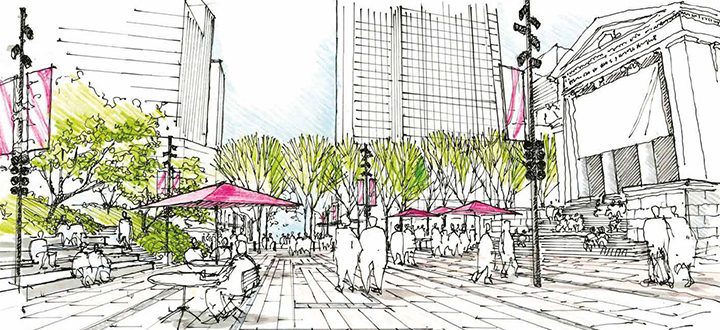 Work to transform 800 Robson into permanent plaza starts Monday
Upgrades will lead to more vibrant, year-round downtown public space
September 13 2019 –
Starting September 16, construction will be underway to transform 800 Robson Street into a permanent, public plaza.
As the downtown continues to grow with more residents, businesses and visitors each year, the demand on public spaces also continues to increase. Creating a permanent plaza at 800 Robson Street, in partnership with the Province of BC, fills a vital need for public space with important social, cultural, and civic functions.
The final design was informed through feedback from residents, visitors, plaza users, and businesses. Once complete, the new plaza will feature:
A flexible open space for year-round events with moveable seating and tables, additional benches and lighting
A continuous level surface of concrete and pavers to create consistency with the recently renovated šxʷƛ̓ənəq Xwtl'e7énḵ Square (located on the north side of the Vancouver Art Gallery)
Pedestrian improvements at the intersection of Hornby and Robson Streets, including better separation for people cycling and driving
Improved lighting and power connections.
What to expect during construction
Access to the plaza will be closed until construction is complete in spring 2020. During this time, an accessible pedestrian detour will be in effect directing people to Georgia Street along the north side of the Vancouver Art Gallery.
The City extends its thanks to residents, businesses and travellers for their patience while construction is underway. Find more information about the 800 Robson Plaza Upgrades