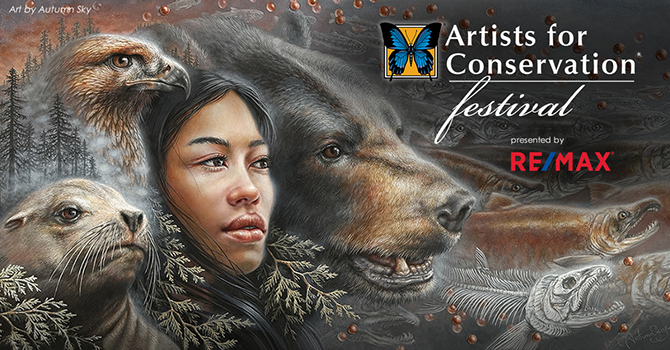 Artists for Conservation Festival 2023
Event details
The Artists for Conservation Festival returns to VanDusen Botanical Garden from September 21 to 24. This multi-day nature-themed arts and culture event welcomes visitors of all ages to experience a blend of visual art, cultural performances, workshops, wildlife and art demonstrations, and more.
Programming
In addition to the main art exhibit, the festival will feature a rich program of live music, films, and live art demonstrations. Learn more about the festival details and program schedules
Art exhibit
A world-class international collection of original paintings and sculptures will be on display in the halls. As in previous years, all artwork is for sale with approximately 40% of proceeds supporting conservation and environmental education programs worldwide. Each artwork is dedicated to supporting a conservation organization of each artists' choice.
Through a very competitive juried process, 200 artworks were selected for this year's exhibit, by 172 artists from 14 countries. Of those, some 84 will be on display at the festival.
Admission
The Artists for Conservation Festival is included with a regular VanDusen Botanical Garden admission ticket. Book a garden admission from September 21 to 24.
Online ticket purchases for Artists for Conservation Festival will be directed to our third-party ticketing provider, ShowPass. The City of Vancouver is not liable for the security of the information shared with ShowPass.
Artists for Conservation
Artists for Conservation (AFC) is the world's leading artist group supporting the environment. Founded in 1997, the non-profit organization comprises a membership of 500 of the world's most gifted nature artists from over 30 countries, across five continents.
AFC's mission is to support wildlife and habitat conservation and environmental education through art that celebrates nature.