Artists in Stanley Park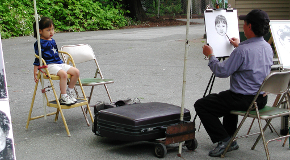 The beauty of Stanley Park is inspiring!
Remember your visit by purchasing a piece of art from an artist in the park.
Find a landscape of Stanley Park, or have a portrait artist capture you or a loved one in the moment.
Stanley Park artists work in a variety of media — watercolour, oil, pastel, ink, and more — making selecting the right piece for your home easy.
Locations
Artists produce and sell their work in three areas of Stanley Park:
Painter's Circle
Japanese Memorial
Vancouver Aquarium