Britannia Fitness Centre
Britannia fitness centre will be closed for maintenance from December 4 to December 17
Britannia Fitness Centre — located just off Commercial Drive west of the Napier Greenway — is a community facility with cardio and strength training machines, free weights, exercise props, and a stretching area.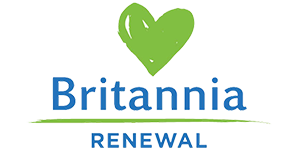 We are working with our partners to renew and revitalize Britannia Community Services Centre and the larger Britannia site.
Fitness equipment
Treadmills
Elliptical trainers
Rowing machines
Stair climbers 
Recumbent bikes  
Stationary bikes
Spinning bikes
Weight machines
Free weights
Balance boards
Barbells
Body balls
Dumbbells
Hours, location, contact info
Get Britannia Community Centre, Fitness Centre, Pool, Ice Rink, and office hours. Find out where we are located and how to contact us.
Fees and passes
View drop-in fees for Britannia Fitness Centre and learn how you can save money with a multi-visit or monthly pass.