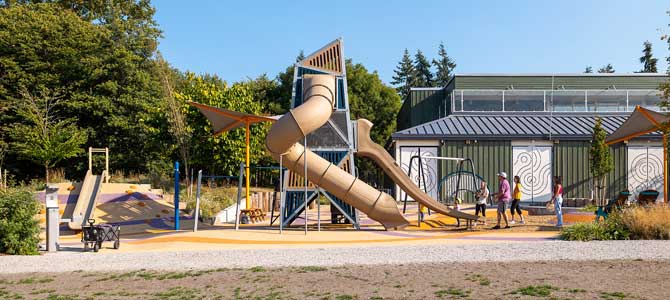 Champlain Heights playground upgrades
The Vancouver Park Board is upgrading the playgrounds in Champlain Heights.
The Champlain Heights community currently has three playgrounds that are in need of replacement:
One large playground at the community centre
Two smaller playgrounds within the walking paths between Champlain Crescent and Matheson Crescent
A local landscape architecture firm has been hired to redesign the playground at Champlain Heights Community Centre and to assess the condition of the neighbourhood playgrounds within the walking paths.
What's happening
New playground in Champlain Heights
As part of the Champlain Heights Playground Upgrades, we're building a new playground next to the community centre, for the wider community to use.
This larger playground was designed using feedback heard in the public engagement phases, and will include a brand new play tower, embankments slides, trampolines, and water play.
The playground will be completed later in 2022.
Timeline
Here is our progress and planned steps.
December 2018

Winter 2019

Winter 2019

Spring-summer 2019

Summer 2021

Stakeholder engagement and detailed design

Early 2022

2022