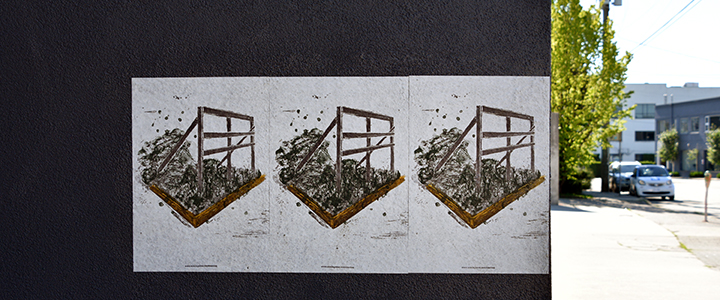 Coming Soon!
This year-long project will see unique poster prints by Vancouver-based artist Diyan Achjadi installed on the fencing around construction sites in the Main, Cambie, and Railtown neighbourhoods.
Coming Soon! draws inspiration from elements and patterns found on building sites such as dirt piles, tools and traffic cones. It then represents them through traditional drawing and fine art printing processes.
The delicate materials and methods used will contrast to the heavy-duty processes taking place on the sites behind the fencing.
Coming Soon! was selected as part of our Artist-Initiated Public Art call.
Locations
Rendition Developments Inc.: 5679 Main St, 494 Railway St, and 224 West 8th
Onni Group: 399 East 1st Ave
PortLiving: Midtown Central at 702 East Broadway
Pennyfarthing Homes: 4988 Cambie St and 5030-5070 Cambie St
Locarno Legacy Corporation: 2468 Balaclava St
View the sites


The project will also be displayed at Welk's General Store at 3511 Main St.
About the artist
Diyan Achjadi is a Vancouver-based artist and is an Associate Professor of Print Media at Emily Carr University of Art and Design.
She received a BFA from the Cooper Union (New York) and an MFA from Concordia University (Montreal).
She has exhibited at galleries and film festivals across Canada and beyond, most recently at the Richmond Art Gallery, Carleton University Art Gallery (Ottawa), and the Art Gallery of Missisauga.
Achjadi has had solo exhibitions at Art Gallery of Greater Victoria, Oboro (Montreal), and AIR Gallery (New York), among others.
Coming Soon! projects
By City of Vancouver
Starting in June 2018, a new print will be revealed every month. Some prints will disappear as buildings are completed while new sites may emerge.
Print one: June 2018

By City of Vancouver

494 Railway St

By City of Vancouver

The first print installed at 494 Railway Street will be joined by new prints in the coming months.

Print two: July 2018

By City of Vancouver

Second print added

By City of Vancouver

Print two joined the first print at sites around Main St and Cambie St in July 2018

Print three: August 2018

By City of Vancouver

Print four: September 2018

By City of Vancouver

September's poster on Cambie St

By City of Vancouver

Print five: October 2018

By City of Vancouver

October's print installed at 494 Railway St

By City of Vancouver

Print six: November 2018

By City of Vancouver