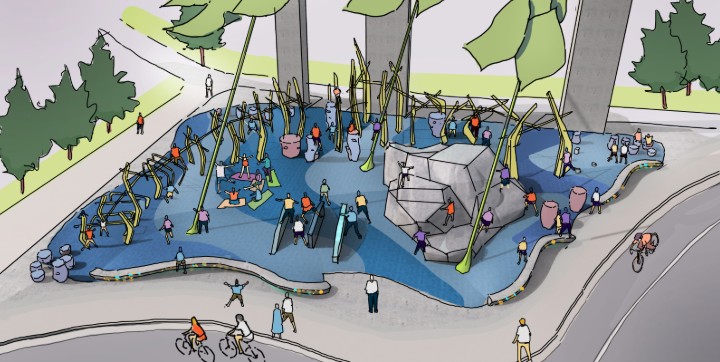 Coopers' Park renewal
In 2018 and 2019, the Park Board held two public engagement events on opportunities to improve the amenities in Coopers' Park under the Cambie Bridge. Based on public feedback, we developed plans for a unique, Pacific Northwest themed fitness area to support parkour and calisthenics.
We also shared plans for a complete renewal of the existing playground. Improving amenities under the bridge provides cover from the weather and the possibility for year-round use in a uniquely urban environment.
In addition to the fitness area and playground, we're now including:
A full renewal of the existing dog off-leash area (following design guidelines from the People, Parks and Dogs Strategy)
A new washroom (as prioritized through the Parks Washroom Strategy)
A drinking fountain
Safety improvements for pedestrians and cyclists in this busy area
We will be seeking public feedback on design options for the off-leash area in spring 2021.
What's happening

Take a look at the dog off-leash area design options

We want to hear from you! Provide feedback on the Coopers' Park dog off-leash area renewal until April 6.

Review information boards (4.5 MB)
Timeline
Here is our progress and planned steps.
Spring 2018

Public engagement 1: recreation options

Summer 2018 - spring 2019

Summer 2019

Public engagement 2: Pacific Northwest themed new fitness area and playground renewal

Spring 2021

Public engagement 3: dog off-leash renewal

Summer 2021

All proposed improvements presented to Vancouver Park Board for decision

To be determined
Contact us
Lehran Hache
604-257-8472