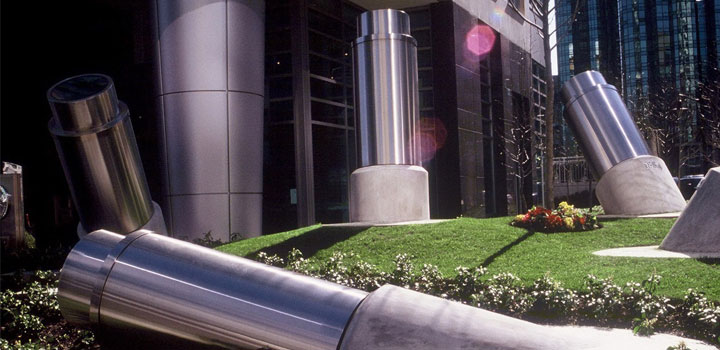 Placing public art in public spaces
Donate public art or memorials
Please contact Parks or City staff prior to commissioning an artist.
Approval will be considered depending on existing resources and civic priorities.
Please review the guidelines for donating public art below.

Parks is not accepting proposals for public art donations at this time.
Create and place public art in Vancouver through the:
Civic Public Art Program
A budget for projects that reflect civic priorities is allocated each year. Potential projects are selected from our planning initiatives, such as:
Infrastructure and parks development projects.
City buildings and other City undertakings.
Needs and interests of particular communities.
Current public art plans.
Private Development Program
Private sector rezonings greater than 100,000 square feet are required to contribute $1.98 per buildable square foot to a public art process approved by us.
Options for developers
Developers may fulfill the public art commitment in one of two ways.
Public Art policies and guidelines
Information for artists
Donating public art

The Park Board is not currently accepting proposals for public art donation. Please check back for updates.
Murals
Public Art Committee
The Public Art Committee provides advice and guidance to City council and staff, civic agencies, developers, and citizens on public art matters, including the Public Art Program.
Private Development Guidelines and Policies
De-accession guidelines
Procedures have been established for removing art work from public sites under City or Park Board jurisdiction.
Get arts and culture news
Contacts
Public Art Program
501 - 111 West Hastings St
Vancouver, BC V6B 1H4
ArtsFinder
Arts, Culture, and Environment Park Board
2099 Beach Ave
Vancouver, BC V6G 1Z4