Engine 374 at the Roundhouse Community Centre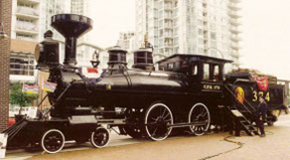 Engine 374 is a locomotive that pulled the first passenger train to enter Vancouver on May 23, 1887. It sat lonely and deteriorating in Kitsilano Park for many years until train-lovers rescued and restored it in time for Expo 86.
After a major fundraising campaign by the Vancouver Central Lion's Club it found its new home in the glass pavilion attached to the Roundhouse Community Arts and Recreation Centre, where it is a designated heritage monument.