Gathering Place health services
The Gathering Place health centre offers free laundry and shower facilities and other basic hygiene services including access to clothing, and delousing.
Low-cost supplies like toothbrushes, toothpaste, combs, laundry detergent, bleach, and fabric softener are sold.
Show ID or a membership card to access our laundry facilities and showers.
Laundry
Detergent is supplied.
Laundry must be washed, dried, and picked up on the same day.
Each patron is limited to one load per day. Sleeping bags can be washed between 10am — 11am.
Laundry takes around 90 minutes to wash and dry. Borrow a bathrobe and slippers from the health centre while you wait for your laundry to finish.
Showers
The health centre has four shower rooms and one accessible shower and bathtub. Showers operate on a first come, first served basis. The health centre can supply shampoo and towels.
Haircuts
We offer basic haircuts when a licensed hairdresser is available.
Clothing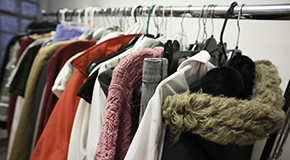 Donation room: A membership card is required to access the donation room, where two free items of clothing per week can be selected.
Items to borrow: Items include men's suits, shoe care equipment, and clothing irons.
Sewing and mending: When a volunteer with sewing skills is available, the health centre offers basic clothing repairs.
Other health services
Treatments for scabies and lice are available by appointment.